Snorkeling Exuma Cays
With Staniel Cay Adventures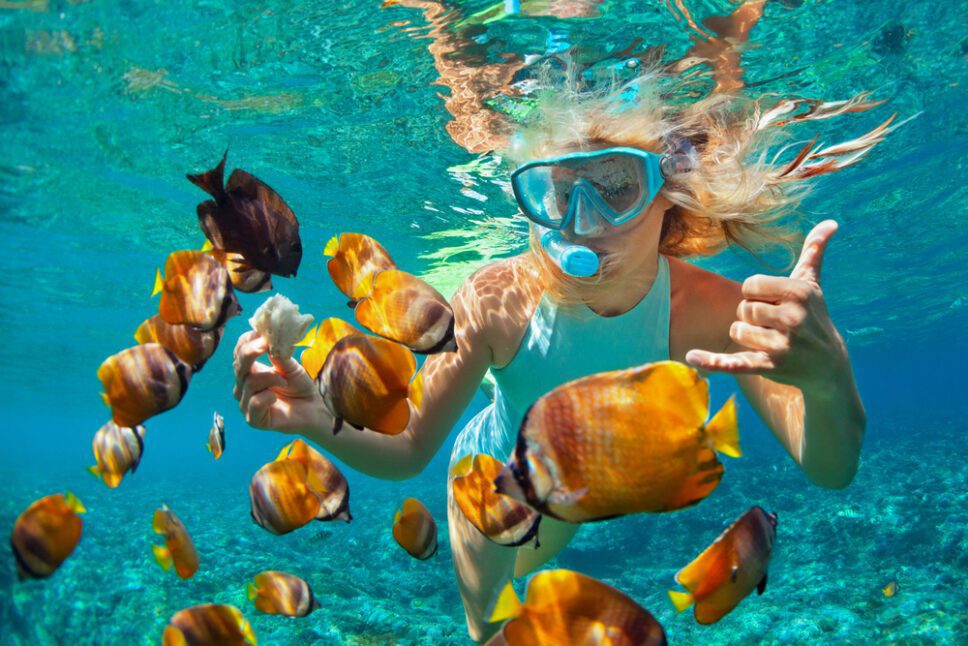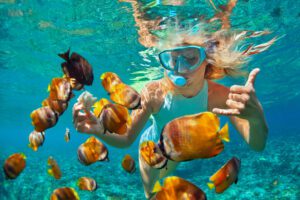 The shallow, crystal-clear azure waters reveal the true wealth of the Exumas, corals and sea fans scattered across the brilliant, white sand bottom. Turtle and grouper huddle with lobster under each sun-dappled nugget of coral. A halo of brightly tinted tropical fish surrounds each coral head, living jewels creating a wealth beyond gold. The Exumas are not on the regular tourist trail, which makes them even more inviting. Many of the islands are privately owned by celebrities and others, and have been the location for several films, most notably the James Bond film, Thunderball Grotto and Pirates of the Caribbean beach scenes.
Snorkeling the Exumas Islands, Bahamas is considered one of the top reef and marine life experiences in the Caribbean. The coral reefs make up a magical underwater world for visitors snorkeling Exumas to enjoy, but they have much more to offer. Reefs are home to thousands of different species of marine life and function as a sustainable eco-system. They are also important for the whole ocean eco-system.
Many of the marine organisms use carbon dioxide that is in ocean water to produce hard shells that are a natural filtration system. They help reduce the overall carbon dioxide in the atmosphere. If these reefs were destroyed, the rise in carbon dioxide would have a detrimental effect on all life. It is estimated that a quarter of the world's fish breed in or near coral reefs. Often called barrier reefs, they also protect the island coastlines from erosion during storms and high tide.
Snorkeling is the simplest and easiest way to enjoy the underwater world that surrounds the Exumas Islands. It doesn't require sophisticated gear or much training. For those who can swim, it just takes a few minutes to learn how to breathe with the snorkel. Children and first-timers can gradually get used to it and go farther and farther out. There are tens of thousands of shallow water sites that are full of coral reefs and marine life.
| Miss Behav'n 18' Dauntless Boston Whaler | Bad Company 22' Dauntless Boston Whaler | Plan Sea 25' ProLine | Great Timing 27' Robalo |
| --- | --- | --- | --- |
| Private Tour $1000 Up to 2 people. After 2 people the cost is $100 per person up to 5 people. | Private Tour $1600 Up to 4 people. After 4 people the cost is $100 per person up to 8 people. | Private Tour $2000 Up to 6 people. After 6 people the cost is $100 per person up to 10 people. | Private Tour $2300 Up to 9 people. After 9 people the cost is $100 per person up to 12 people. |
| Group Tour $250 Per Person. $447 Per person From Nassau | Group Tour $250 Per Person. $447 Per person From Nassau | Private Dive Experience $2000 Up to 4 people. You select your dive site and time. Weather dependent. | Private Dive Experience $2300 Up to 6 people. You select your dive site and time. Weather dependent. |
| | | Group Dive $300 Per Person | Group Dive $300 Per Person |
| Private Fishing $1000 Up to 2 people | Private Fishing $1600 Up to 3 people | Private Fishing $2000 Up to 4 people | Private Fishing $2300 Up to 6 people |
| Private Brunch or Lunch In Paradise $1250 for Brunch or $1400 for Lunch Up to 2 people. After 2 people the cost is $175 per person for Brunch and $250 per person for Lunch up to 5 people. | Private Brunch or Lunch In Paradise $2000 for Brunch or $2300 for Lunch Up to 4 people. After 4 people the cost is $175 per person for Brunch and $250 per person for Lunch up to 6 people. | Private Brunch or Lunch In Paradise $2550 for Brunch or $3000 for Lunch Up to 6 people. After 6 people the cost is $175 per person for Brunch and $250 per person for lunch up to 8 people. | Private Brunch or Lunch In Paradise $3000 for Brunch or $3600 for lunch Up to 8 people. |