The Staniel Cay Adventures
You Will Share For Years To Come
 At Staniel Cay Adventures, we think Staniel Cay is the reason for Instagram. The Exuma Cays are an exotic collection of dream destinations with sapphire-blue water everywhere. Footprint-free beaches, ultra-exclusive resorts, and islands fit for celebrities make this tropical paradise an absolute gem. Here, nature outnumbers man; coastlines remain flawless and private homes play host to some of the world's most famous stars. The Exuma Cays genuinely are the ultimate escape.

Visit Staniel Cay Adventures in Exuma Bahamas, and have an adventure you will share for years to come!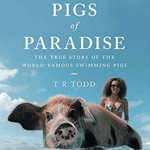 In the middle of paradise, with billionaires and celebrities for neighbors, is Pig Beach, which is an island populated only by the Bahamas swimming pigs. For decades, this archipelago of 365 islands would remain largely unknown to the world. It would not be a ruthless pirate, pioneering loyalists, a notorious drug kingpin, or the infamous Fyre Festival that would unveil Exuma to the world, but rather the most unlikely of creatures. Appearing in magazines, videos, newspapers, commercials, TV shows, and countless selfies, the Swimming Pigs of Exuma, in the Bahamas, have become a bucket-list sensation and have been named one of the marvels of the universe.
The locals at Big Major's "Pig Beach" are transplants rather than native islanders, just like many of the people you'll meet in the area. And though they've clearly taken to their tropical digs and rising popularity — spurred in part by a dramatic appearance on "The Bachelor" and more than a few well-liked Instagram posts — the rewards of fame are free food. Most tours to the island start at 9 a.m. It's best to go early in the morning for the most uninterrupted attention from the pigs. By late afternoon, you'll usually find them tuckered out with full bellies, and they're more likely to lounge in the sand than to paddle through the water with you.
Staniel Cay Adventures provides exciting tours of the Exuma Cays with a local Staniel Cay captain and first mate. Our professional licensed tour guides will show you around the beautiful Exuma Cays for a full day or several days.

We offer many adventures, including sightseeing to the original and now famous Staniel Cay swimming pigs. Swim with the sharks at Compass Cay, hand-feeding turtles at Farmers Cay, and snorkel on an old drug plane & natural aquarium in the land and sea park. Visit a blowhole, jump into Nature's Bubble Bath, walk on a mile-long sandbar and visit an island that only Iguanas inhabit. Snorkeling is a must at Thunderball Grotto, which was a James Bond 007 movie scene. Located just west of Staniel Cay, this fantastic underwater cave system is excellent for snorkeling, diving, and wading. It is teeming with exotic marine life and a kaleidoscope of brilliantly colored coral reefs and fish, like yellow-tail snappers, Angelfish, Sergeant Majors, and the like. The small, almost hidden entrance heightens the grotto's mystique. It is advised to enter at ebb tide (low or slack tide), and snorkeling equipment is optional. We haven't even started to share all the memory-making adventures available to you in the Staniel Cay in the Exuma Cays.

Want to Scuba Dive around Staniel Cay and the other Exuma Cays?
As a boutique scuba diving experience, we cater to small groups of six people or less and focus on personal attention, comfort, safety, and environmental responsibility. We have a luxury boat and keep our service very personal. Join Cameron a PADI Dive Instructor for a dive or two in crystal clear water. Not certified? No problem! Take our Discover Scuba Class for ages 10 years and up.
Explore the beautiful waters while scuba diving on Staniel Cay Exuma, Bahamas. Staniel Cay Adventures is located on Staniel Cay which lies approximately 75 miles south of Nassau and 250 miles southeast of Florida. The island is less than 2 square miles in area and is home to about 80 full-time residents.
As a boutique scuba diving experience, we cater to a small group of six people or less and focus on personal attention, comfort, safety and environmental responsibility. We have a luxury boat and keep our service very personal.
Tailor-Made Service: Staniel Cay Adventures considers the needs of their guests in terms of dive sites, desired marine creatures and food menus. This flexibility is a cornerstone of the boutique dive experience. This is to ensure that each and every guest feels pampered and cared for throughout the journey.
Attention to Detail: From post-dive snacks to fluffy towels, no detail goes unnoticed, leaving divers with nothing to worry about.
A Low Ratio of Dive Master to Divers: On these dives, our dive masters are only responsible for 2 to 6 people, ensuring safe and quality scuba diving.
A Full-Service Dive Routine: Our Diver Master sets up your equipment and disassemble equipment . In between, the crew takes all responsibility for washing and changing tanks. There's no need to do even the slightest bit of work!
Staniel Cay, Exuma Bahamas
Which island in The Bahamas can you swim with the pigs?
The swimming pigs of The Bahamas are found on Big Major Cay, also known as Pig Beach, in the Exuma Cays. Staniel Cay is a 5 minute boat ride to the original and now famous swimming Pigs.
How do you get to the swimming pigs?
How do I go fishing in the Exumas Cays?
Avid fisherman from all over the world come to the Exuma for fishing, and everyone is consistently impressed with the professionalism and fun that is offered on these fishing charters. Whether you are an experienced fisher, or you're new, and looking forward to bringing home dinner that you caught, we'll have the perfect fishing experience for you.
Where can I swim with the sharks?
Does swimming with the sharks sound dangerous?  This part of a tour can be loads of fun!  Nurse sharks, the bottom-dwelling sharks that live in warm, shallow waters of the Bahamas are a friendly bunch. You'll have plenty of opportunities to get up close at Compass Cay just north of Staniel Cay.
If you want to scuba dive with sharks Staniel Cay Adventures offers shark dives.
What things can we do do at Farmers Cay?
Farmer's Cay is also home to abundant wildlife, including exotic birds, sea turtles, sharks and tropical fish. Deep sea caves and coral reefs are nearby for world-class snorkeling.
At Farmers Cay is where you will swim and be able to pet wild sea turtles.
Where can I scuba Dive in the Exumas?
There is a high abundance of marine life in the Exuma Cays, including all the sea turtle species you can see throughout the year, along with eagle rays, dolphins, reef sharks, and seahorses. November through to February heightens the chance of seeing humpback whales and hammerhead sharks. Visibility is excellent all year round.
The most famous dive area is the Exuma Land and Sea Park. It is one of the Bahamas National Parks and Protected Areas managed by the Bahamas National Trust. You will dive along walls, healthy untouched reefs, and sharks in this vast park. There are dives with varying depths to enjoy a scuba experience here that meets their skill level.
Within the Land and Sea Park is Jeep Reef, a famous dive. Jeep Reef has one of the healthiest and most colorful reefs in the Bahamas and is known for the reef's coral-encrusted jeep.
While in the Exuma Cays, you will have the chance to visit multiple dive sites, each with its own unique experience. A few dive sites consist of beautiful, thriving sea walls such as the Whale Tail Wall, where eagle rays are often spotted, and Pillar Wall begins at 40′ and drops down more than 333 feet, especially great for deep divers.
There is also a wreck you can dive around; the Austin Smith Wreck, lying down at 60 feet and is about 82 feet long, has created a spectacular dive spot. If you seek even more excitement, then you will find this at The Washing Machine, a place where the tide can make you tumble around, if you wish. If you would rather watch from the sidelines, it still has an impressive reef teeming with life. When it comes to reefs, the Amberjack Reef, another dive spot, is a small reef that is extraordinarily full of marine life, thousands of fish will surround you, and there is multiple reefs shark that calls this reef their home.
Explore the beautiful waters while scuba diving  in the Exuma Cays, Bahamas. Staniel Cay Adventures is located on Staniel  Cay and offers a boutique scuba diving experience through out the Exuma Cays, we cater to a small group of six people or less and focus on personal attention, comfort, safety and environmental responsibility. We have a luxury boat and keep our service very personal.
Can we feed the swimming pigs?
These pigs are no strangers to handouts. The Captains of Staniel Cay Adventure provides  fresh fruit and vegetables along with piggy baby formula so that you will make a new best friend, or more!
How are the swimming pigs taken care of?
In Staniel Cay, we value our origiinal swimming pigs, and it takes a community effort to look after them.
Referred to as  the custodians of the swimming pigs, Bernadette Chamberlain and her husband John, helped to establish several measures to keep them healthy.
The Chamberlain's are among other locals such as Staniel Cay Yacht Club, MakersAir who are devoted to ensuring the swimming pigs remain as a sustainable attraction.
Through a community effort with Staniel Cay, Exuma volunteers, the following initiatives were implemented:
Raised funds to purchase water tanks on the island and developed a guttering system to ensure the pigs receive enough freshwater, even at times when volunteers were not there to refill the tanks.
Built a nursery for the piglets to ensure they obtained proper care and nutrition after birth
Created separate pens for piglets and animals who are ill and need medical treatment, upon which a veterinarian from Nassau provides these services.
Featured signs that communicate rules and regulations to visitors. These consist of how visitors should interact with the pigs. The signage also educates visitors about the types of "pig approved" foods to feed them. These include fruits, vegetables, bread, and pig feed that can be purchased locally.
A trough was installed and acts as a designated place to feed the pigs so that they don't ingest excess sand or saltwater.
In addition to local volunteers in Staniel Cay, Staniel Cay Adventures visits the area daily also look after them admirably by bringing them food and water.
Staniel Cay Adventures
It's Da Ting To Do!
Staniel Cay, Exuma, Bahamas