Group Excursions in the Exuma Cays, Bahamas
Three Types of Group Excursions
Small-Group Excursions! Depending on the boat, you will never be with more than 12 people ( including yourself) on our biggest boat and 5 on our smallest.
We only offer luxury group excursions that feel private.
Swimming Pigs Excursion has Seven Stops
Click the + sign for more stop details
Swimming Pigs Excursion
Swimming Pigs Tour includes Swimming Pigs, Pet Sharks on Compass Cay, Iguanas, Thunderball Grotto, Stop for Lunch at the Staniel Cay Yacht Club, and swimming on an incredible sandbar. Or, if you would like a custom private tour, we are happy to show you around our beautiful cays.
1. Swimming Pigs on Pigs Beach
The Original Swimming Pigs Tour With Staniel Cay Adventures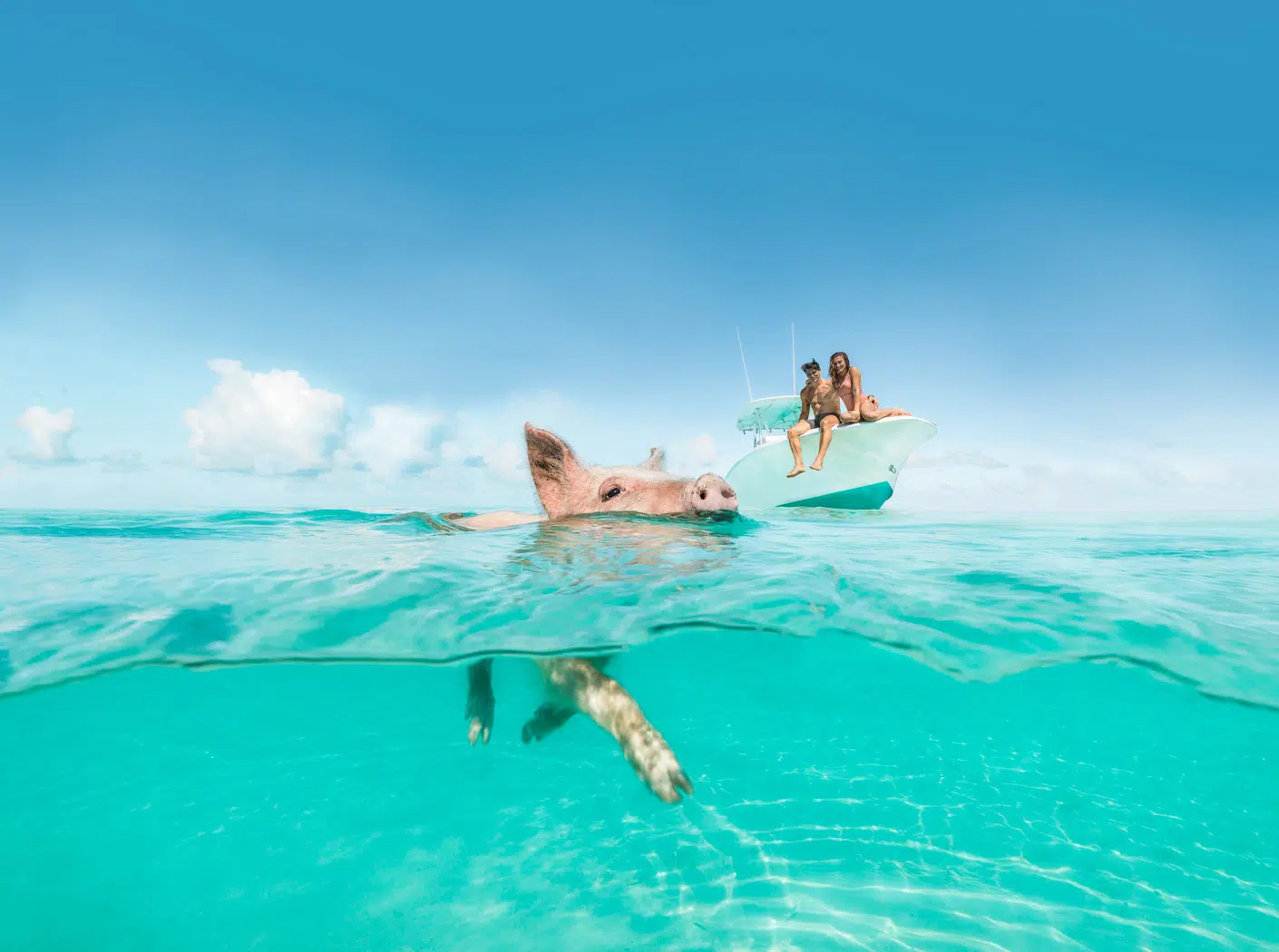 Pigs can't fly but they sure can swim; join us as we embark on this magical Swimming Pigs Tour adventure! Swim with friendly sharks at compass cay, feed the swimming pigs and get a close look at the endangered Bahamian Rock Iguanas all while cruising in the pristine waters of the Exuma Cays.
The Swimming Pigs
In the middle of paradise, with billionaires and celebrities for neighbors, is an island populated only by swimming pigs. For decades, this archipelago of 365 islands would remain largely unknown to the world. It would not be a ruthless pirate, pioneering loyalists, a notorious drug kingpin, or the infamous Fyre Festival that would unveil Exuma to the world, but rather the most unlikely of creatures. Appearing in magazines, videos, newspapers, commercials, TV shows, and countless selfies, the Swimming Pigs of Exuma, in the Bahamas, have become a bucket-list sensation and have been named one of the marvels of the universe.
Big Major Cay, is a daydream when you meet the inhabitants: loud, snorting pigs paddling out to greet you like a jolly bunch of golden retrievers rushing to the door when their owner finally gets home from a long day of work.
The locals at Big Major's "Pig Beach" are transplants rather than native islanders, just like many of the people you'll meet in the area. And though they've clearly taken to their tropical digs and rising popularity — spurred in part by a dramatic appearance on "The Bachelor" and more than a few well-liked Instagram posts — the rewards of fame are free food. Most tours to the island start at 9 a.m. It's best to go early in the morning for the most uninterrupted attention from the pigs. By late afternoon, you'll usually find them tuckered out with full bellies, and they're more likely to lounge in the sand than to paddle through the water with you.
2. Swimming With The Sharks On Compass Cay
 Sharks On Compass Cay with Staniel Cay Adventures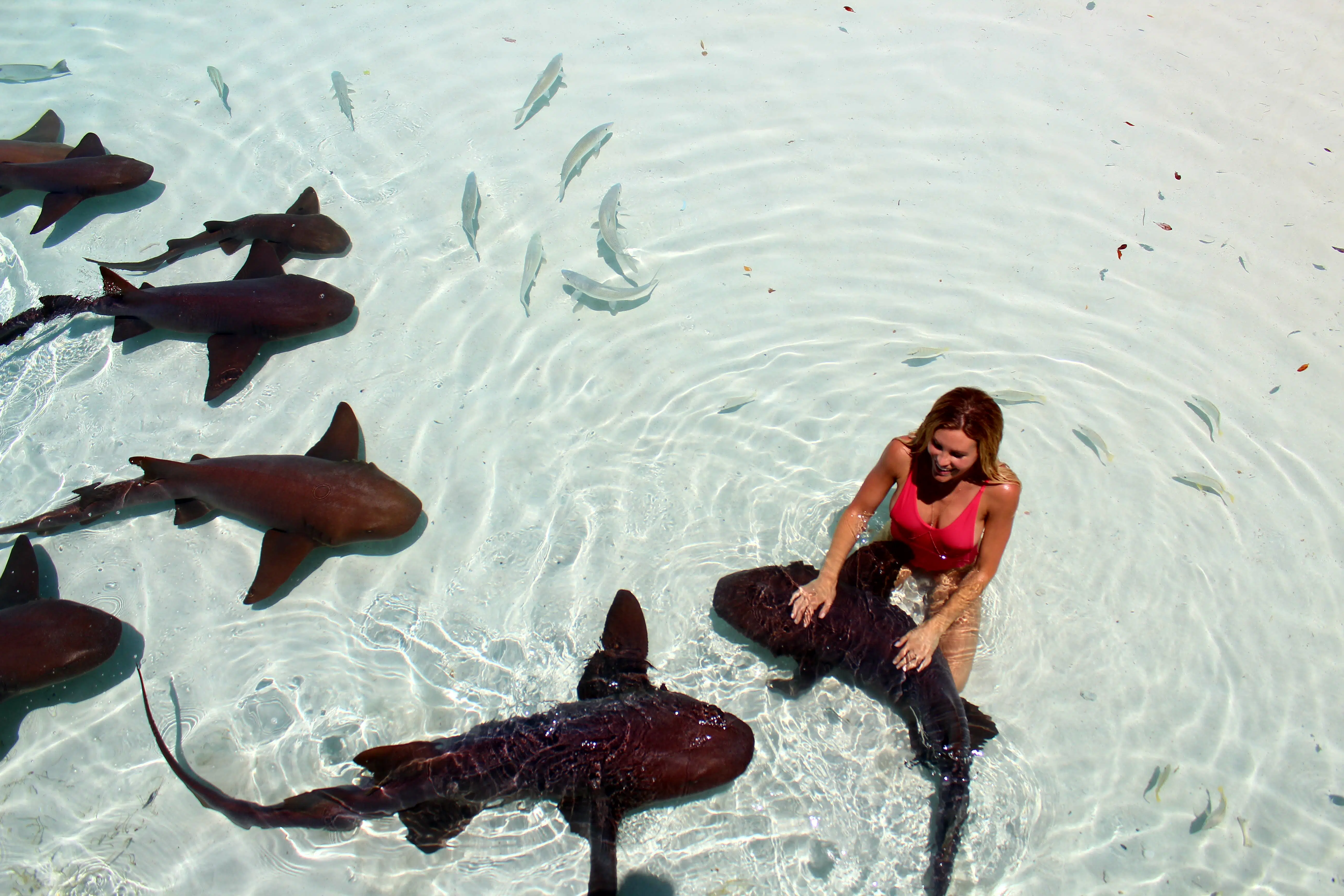 Does swimming with the sharks sound dangerous? This part of a tour can be loads of fun! Nurse sharks, the bottom-dwelling sharks that live in the warm, shallow waters of the Bahamas are a friendly bunch. You'll have plenty of opportunities to get up close at Compass Cay just north of Staniel Cay
The nurse sharks are – for the most part – harmless to swimmers and snorkelers.
Nurse sharks may have the ominous dorsal fin of a predator but they are much more easygoing than your average shark. These sharks are greyish-brown in appearance, reach 7.5 to 9.75 feet long, and weigh up to 300 pounds! Young nurse sharks can be identified by their spots. Nurse sharks feed on the fish, squid, and crabs of shallow ocean floors, and use their strong jaws to crush and eat shellfish, and even coral.
Is it safe to swim with nurse sharks?
A human fear of sharks is not without reason, but it just so happens that nurse sharks are laid-back and mostly harmless. That is why many divers and snorkelers visit the Bahamas to swim with sharks. Nurse sharks that live near marinas are fed by local fishermen and have grown accustomed to the presence of humans. This makes them much more friendly. Having your own day tour with Staniel Cay Adventures allows you to take advantage of every opportunity to swim with the nurse sharks.
3. Visit The Iguanas On Bitter Guana Cay
With Staniel Cay Adventures ( Photo Below)

The Exuma Island Iguana is a critically endangered subspecies of northern Bahamian rock iguana that is found on the Exuma island chain in the Bahamas with a wild population of 1,300 animals, it is listed on the IUCN Red List. Iguanas of Bitter Guana Cay is a must stop to visit with amazing coral rock formations hand over a picture perfect little sandy beach. The Exuma Island iguana is the smallest of the three subspecies of C. cychlura. It attains a total length of close to 3.3 ft. Its coloration is dark-gray to black, with white or orange tinged scales on the head and snout depending upon which cay the iguana is from. As soon as you step on Bitter Guana Cay, you will notice the island is filled with iguanas. These iguanas are endangered species, with the population being less than 5,000.
If you just pass by, you will not notice the dozen of iguanas on the island; they won't move or scurry or even blink. When you pull up in the boat and hit the sandy beach they will run out to greet to you like a long lost friend. They hang around like puppy dogs, basking in the sun & playing with the visitors. Just like the other islands in The Exumas that are inhabited by wildlife, these are accustomed to people visiting them. As you walk the beach, you will notice some stay in hiding; they are super friendly, although they will only let you get so close.
Due to their isolation to the rest of the world, the iguanas are indigenous to this island & are not found anywhere else. This subspecies is found on at least seven small cays throughout the central and southern Exuma island chain of the Bahamas: Bitter Guana Cay, Gaulin Cay, White Bay Cay, Noddy Cay, North Adderly Cay, Leaf Cay, and Guana Cay. The entire population on Leaf Cay was translocated to Pasture Cay in 2002.The Exuma Island iguana utilizes a variety of habitats from sandy beaches and xeric limestone devoid of vegetation to dry forests. The iguanas use limestone crevices or sand burrows for retreats at night and in adverse weather conditions The Exuma Island iguana, like most Cyclura species is primarily herbivorous, consuming leaves, flowers, berries, and fruits from over 100 plant species. Favored food plants include seaside rock shrub , darling plum , pride of big pine , joewood , black torch , seagrape silver thatch palm, white stopper , bay cedar , and the rotting fruit of seven-year apple . The Exuma Island iguana is also an important means of distributing these seeds to new areas (particularly when females migrate to their nesting areas) and, as the largest native herbivores of their island's ecosystem, they are essential for maintaining the balance between climate and vegetation. The longevity record in captivity for an Exuma Island iguana is twenty-three years, six months.
The iguanas live in large social colonies with a lack of social structure; typically not aggressive towards each other. They bask in the sun, relax & greet with visitors to their own private island.
4. Snorkel Thunderball Grotto
With Staniel Cay Adventures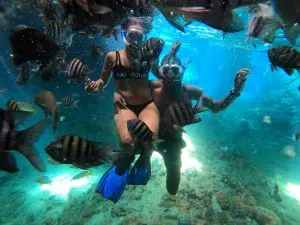 Thunderball Grotto is an incredible underwater cave that has starred in not one, but two James Bond movies
Retrace 007's swim-finned steps with an unforgettable excursion to this famous turquoise grotto.
Cue the martinis, bombshells in bikinis, and MI6 secret weapons. Thunderball Grotto, an underwater cave that's been featured in two James Bond movies, also happens to be one of the most spectacular places to snorkel in the Bahamas.
A short boat ride from the northwest coast of Staniel Cay in the Exumas, Thunderball Grotto has played host to several silver screen gems, including Bond flicks Thunderball (1965) and Never Say Never Again (1983), Splash (yes, the one where Daryl Hannah plays a mermaid), and Into the Blue, starring Jessica Alba.
In Thunderball, Sean Connery's James Bond heads to the Bahamas to recover two nuclear warheads stolen by global terrorist organization SPECTRE.
Thunderball Grotto
Thunderball Grotto is located two minutes from Staniel Cay Exuma, offering an incredible underwater cave system that is great for snorkeling and wading. You will experience a variety of friendly marine life along with brilliantly colored coral reefs and Sergeant Majors, Yellow-tail snappers, and Angelfish. We provide professionally maintained snorkeling equipment from our certified PADI Dive Master.
5. Staniel Cay Yacht Club
Staniel Cay Yacht Club With Staniel Cay Adventures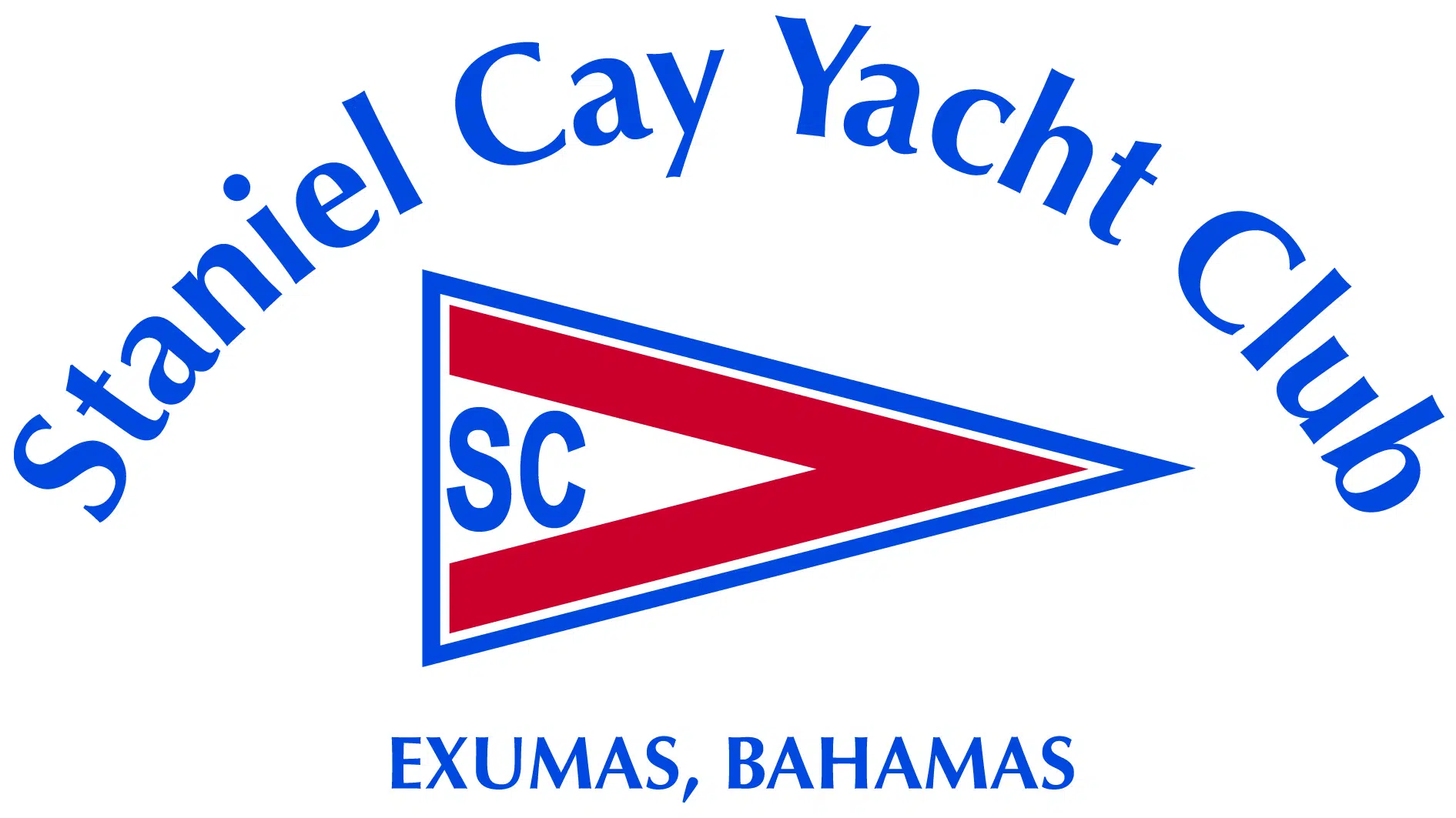 The centerpiece of the Staniel Cay community is the famous and historic Staniel Cay Yacht Club; a luxury boutique hotel with over water bungalows, marina, restaurant and bar. With close proximity to Staniel Cay Yacht Club is known by some as the gateway to the Exumas. Staniel Cay Yacht Club is the perfect place to lunch and people watch.
6. Exuma's Famous Sandbars
Exuma's Famous Sandbars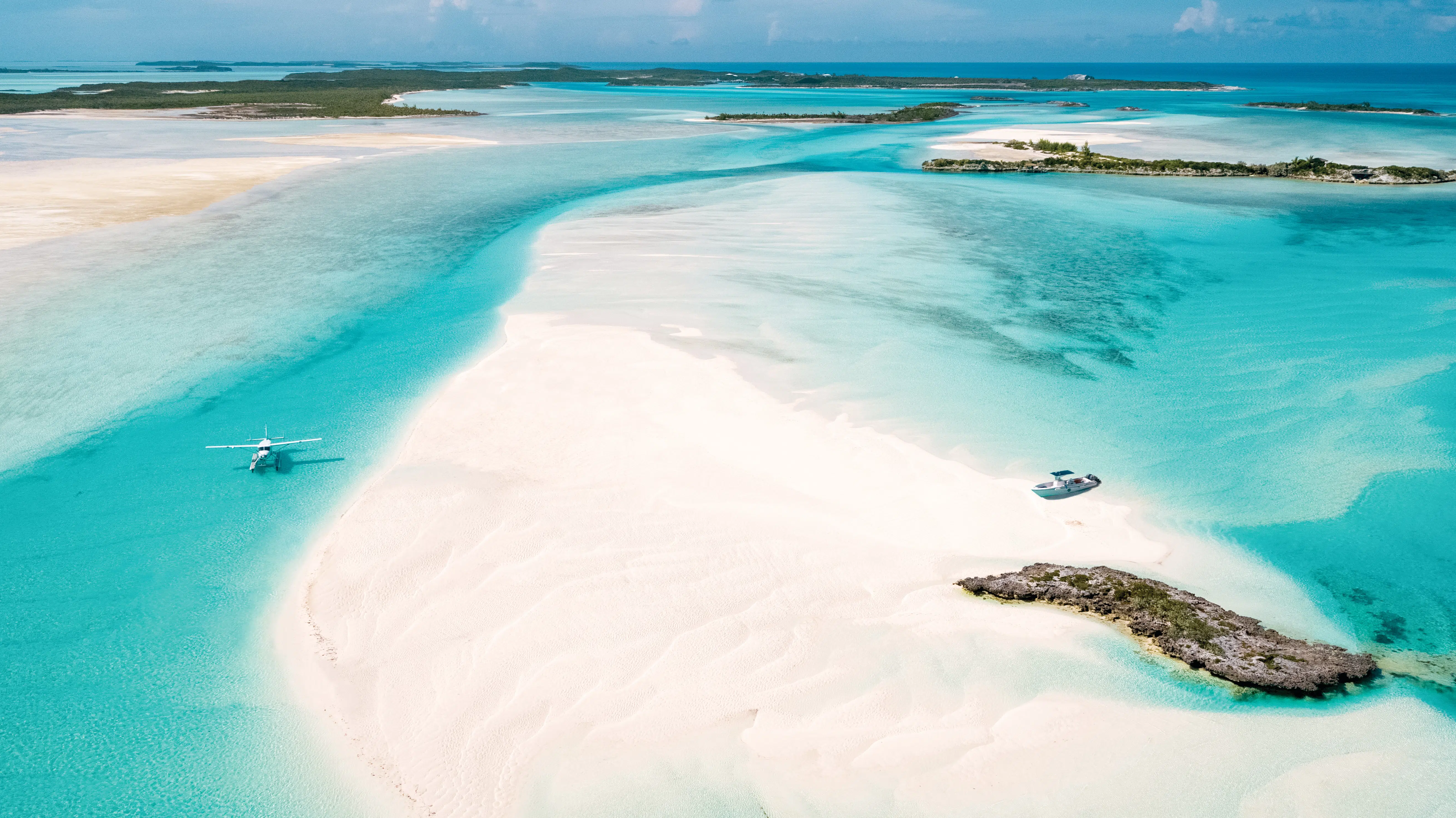 With sapphire-blue water everywhere, The Exumas are an exotic collection of dream destinations.
The white sand exquisiteness and tropical waters make for an excellent destination on any Bahamas day trip to the Exumas. It is just one of many attractions within the vicinity of Staniel Cay.
Staniel Cay Adventures stops at one of the most spectacular in the Bahamas. Enjoy the incredible shallow and narrow channels of crystal clear blues and stunning white sand beach that peek out of the water at low tide. You will see exotic life under the sea and experience quiet seclusion like you can't get in other parts of the Bahamas.
The Exuma sandbars are the definition of an oasis deep in the Bahamas!
7. Snorkel Airplane Wreck
Snorkel Airplane Wreck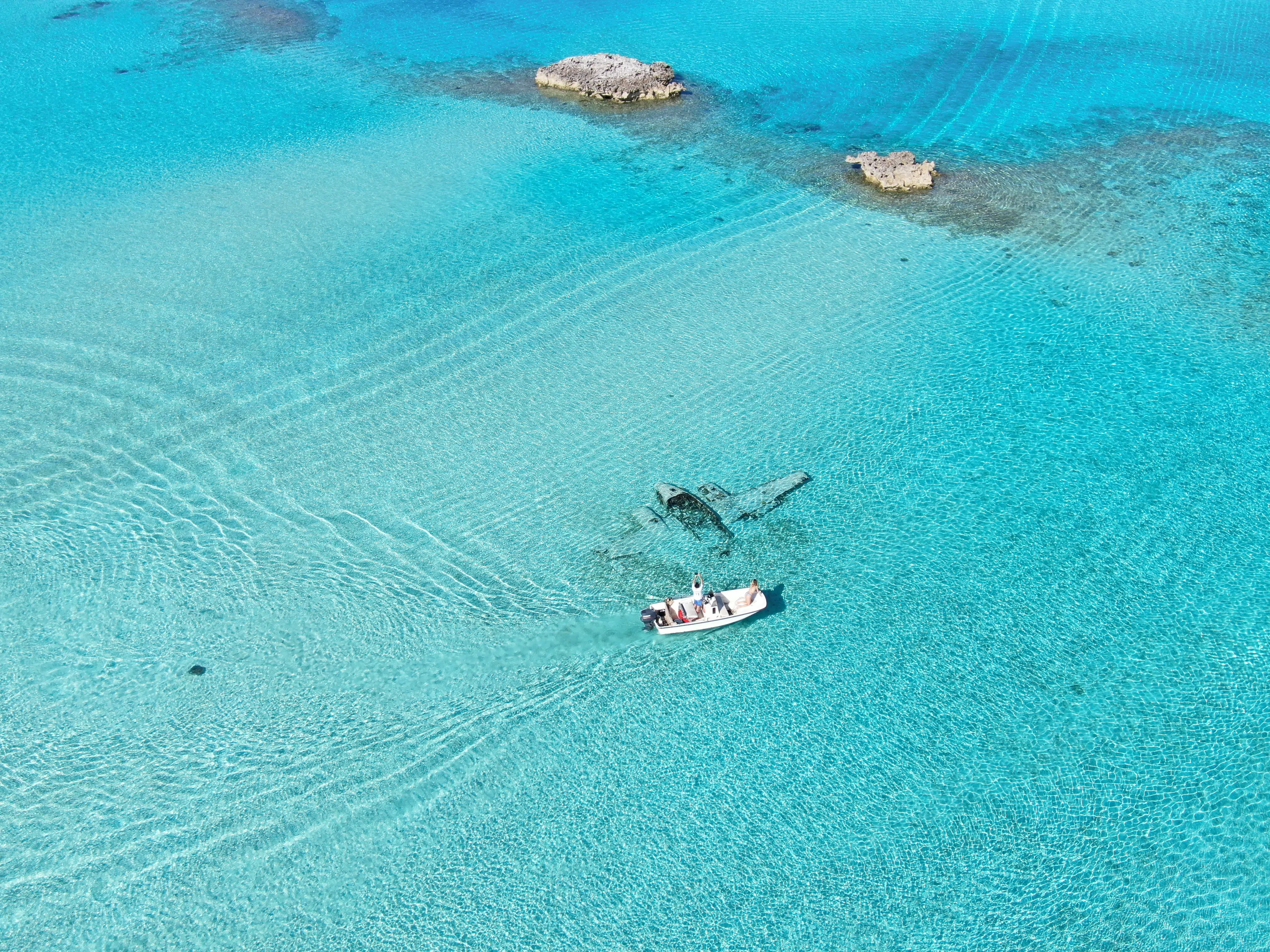 The wreckage of one of Pablo and Carlos' plane, lies just off of Staniel Cay in shallow water.  We will anchor the boat and snorkel the most famous plane crash in the Bahamas.
Pricing
Group Tour $330 Per Person  From Staniel Cay
 $550 Per Person From Nassau
Children Under 7 Tour Free!
All prices exclude 10% VAT and a Credit Card Processing Fee of 5%
Private Tour Options
Join us for a magical Staniel Cay Adventure and you will have an experience like no other! Are you looking for something new and exciting? Then look no further than our list of unique tours that are not offered by anyone else. We at Staniel Cay Adventures have curated a list of activities for you that will surely get you excited.
Group Tour $330 Per Person  From Staniel Cay
 $550 Per Person From Nassau
Children Under 7 Tour Free!
All prices exclude 10% VAT and a Credit Card Processing Fee of 5%
Swimming Pigs Excursion From Nassau The Bahamas
| DEPART | ARRIVE | FREQUENCY | SAME DAY ROUND TRIP FLIGHT |
| --- | --- | --- | --- |
| 8:00 AM | 8:45 AM | Daily | from Nassau Only $550 |
| 5:00 PM | 5:35 PM | Daily | All prices exclude 10% VAT and a Credit Card Processing Fee of 5% |
Pablo Escobar's Adventure
Normans Cay
is widely known as the stronghold for world-renowned drug kingpin Pablo Escobar and the base of his Caribbean drug trafficking operation. Just off the coast, we head to explore a submerged drug trafficking airplane that crashed shortly after takeoff.
Activities Include
Swimming in Rachel's bubble bath, Snorkeling and exploring Rocky Dundas, Frolicking on Shroud cay sand bar, Snorkeling Pablo Escobar's drug plane, and Enjoying lunch on Norman's Cay at Mc Duffs.
Mermaid Adventure
Mermaid Melody
If you're looking for a truly enchanting experience, come explore the Bahamian waters with Mermaid Melody. The beautiful boat ride will take you to some of the most secret and exciting attractions in the Exuma Cays. You'll have a chance to snorkel alongside a sunken mermaid and piano, visit a turtle sanctuary, snorkel a sunken plane, walk inside an open cave near the "Fountain of Youth", frolic on White Bay Beach, and enjoy a delicious local lunch in Black Point.
Mr Copperfield did a really cool thing back in 2011. He commissioned the famous underwater museum artist deCaires Taylor to sculpt a statue of a mermaid looking at a grand piano. He then sank the sculpture in about 13-15 feet of water off of Rudder Cay, which is just south of Musha Cay, and had a contest to see who could find it.
As you descend into this strange new world, you can see the Musician that was installed in 2011. The Musician is a stand-alone sculpture that includes a full-scale mermaid and Steinway concert grand piano replica. It is hidden underwater for snorkelers to discover near a private island owned by the illusionist David Copperfield. The piano plays soft music, similar to the sound of a whale or dolphin, as divers approach, and was constructed using 316 stainless steel. The mermaid, waiting to play, is made from pH-neutral cement to encourage marine growth.
Who will our excursion guides be?
We have licensed local captains that have all grown up in the Exuma Cays and have many years of experience.
Can I book a private trip?
Yes, we offer private charter trips. Please see the chart below.
Where do we meet for pick up?
When you land on Staniel Cay, we will be right there to greet you.
Is lunch included?
No, lunch is not included on the Swimming Pigs Staniel Cay Day Tour. We offer snacks, water, and soda.
Will there be somewhere to leave our personal items while on the swimming pigs tour?
Our boats have dry areas that we can stash your personal belongings during the tour.
How much tip do you think we should give?
Tips can vary depending on how many people are in your group.
Can I give a tour as a gift?
Of course, you can! Email us or give us a call, and we can help if you want it to be a surprise.
How much cash should we take and do they accept U.S. currency?
Yes, every island accepts U.S. currency and Bahamian Currency. Bring enough money for souvenirs and $10.00 for swimming with the Compass Cay Pet Sharks.
What is Provided For The Swimimng Pigs Excursion?
Fluffy Towels
Water and soft drinks with lots of ice for those hot days
Snacks
Fish and Pig Snacks
Sunscreen if needed
Snorkeling gear that is professionally maintained
Beach chairs and floats
Phone Chargers and power supply
Digital photos for download
Local and experienced Boat Captain
You provide:
Camera or smart phone
Swim suit, hat and cover up for sun protection
Cash for lunch, tips and $10 per person to swim with the pet sharks
Who Should Not Go On The Swimming Pigs Excursion
Not recommended for pregnant women
Not accessible for the physically challenged
Not recommended for people with back problems or who have had a recent back surgery
Not recommended for people with respiratory or heart problems
Not recommended for people with a recent arm/hand surgery
Not handicapped accessible
How far in advance do you need to book a swimming pigs day tour?
The further out you book, the better chance of booking your preferred date. Staniel Cay Day Excursions get booked fast make your booking in advance if you can't then email or call us and we will try to accommodate your schedule.
What Do We to Bring on the Swimming Pigs Tour
What should we wear for the Staniel Cay Swimming Pigs Tour?
Wear appropriate weather gear and always have a swimsuit on underneath!
Can I book Staniel Cay Swimming Pigs Day Excursion by phone?
Do we have to tip our Staniel Cay Swimming Pigs Tour Guides?
Tips are not required but are much appreciated; more than often, people provide tips to our captains.
Does the tour still go out if it rains?
We go out as long as the weather permits, depending on the water condition and how heavy the rainfall is we will try to make it out rain or shine. We do have rain protection if needed. It is rare to have a full day of rain.