Scuba Diving on Staniel Cay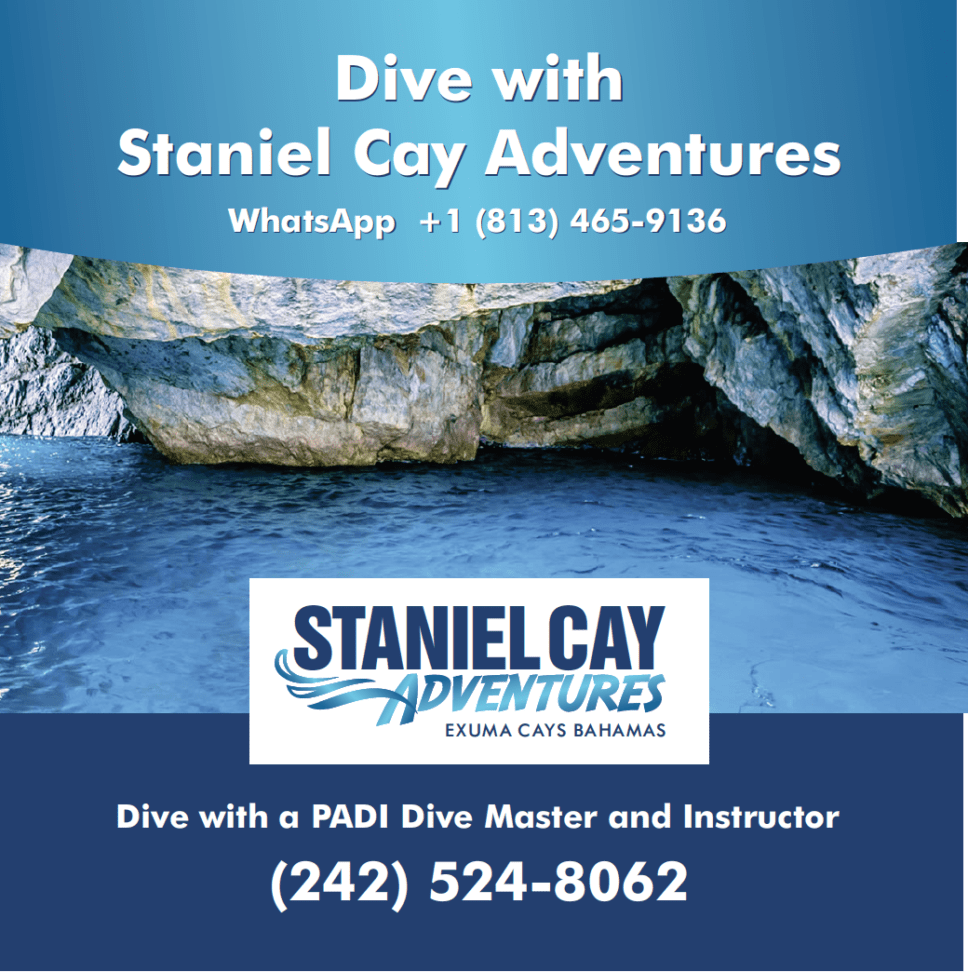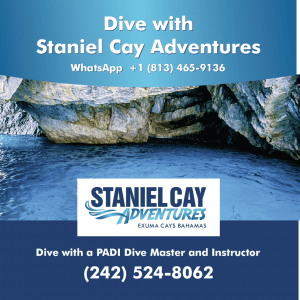 Explore the beautiful waters while scuba diving on Staniel Cay Exuma, Bahamas. Staniel Cay Adventures is located on Staniel Cay which lies approximately 75 miles south of Nassau and 250 miles southeast of Florida. The island is less than 2 square miles in area and is home to about 80 full-time residents.
As a boutique scuba diving experience, we cater to a small group of six people or less and focus on personal attention, comfort, safety and environmental responsibility. We have a luxury boat and keep our service very personal.
Tailor-Made Service: Staniel Cay Adventures considers the needs of their guests in terms of dive sites, desired marine creatures and food menus. This flexibility is a cornerstone of the boutique dive experience. This is to ensure that each and every guest feels pampered and cared for throughout the journey.
Attention to Detail: From post-dive snacks to fluffy towels, no detail goes unnoticed, leaving divers with nothing to worry about.
A Low Ratio of Dive Master to Divers: On these dives,  our dive masters are only responsible for 2 to 6 people, ensuring safe and quality scuba diving.
A Full-Service Dive Routine: Our Diver Master sets up your equipment and disassemble equipment . In between, the crew takes all responsibility for washing and changing tanks. There's no need to do even the slightest bit of work!
Every dive trip is guided by a PADI Certified Divemaster and Instructor to enhance your experience. Our experienced captains, combined with our great locations offers you some of the best scuba diving in the Bahamas at our doorstep, we are able to offer you personal first class scuba courses and dive excursions to an underwater world that will take your breath away!
Looking for Snorkeling and guided tours? We also offer that!
If you are already a certified scuba diver then consider joining with us for a few fun dives. We have options available for morning, afternoon and full day trips, and if you'd like to set up a private charter we can accompany you as well! We make our dive location decisions daily based on weather, tides and currents.
All Prices exclude 12% VAT and Credit Card Processing Fee of 5% 
Miss Behav'n
18' Dauntless Boston Whaler
Bad Company
22' Dauntless Boston Whaler
Plan Sea
25' ProLine
Great Timing
27' Robalo

Private Tour $1000
Up to 2 people. After 2 people the cost is $100 per person up to 5
Private Tour $1600
Up to 4 people. After 4 people the cost is $100. per person up to 8.
Private Tour $2000
Up to 6 people. After 6 people the cost is $100. per person up to 10
Private Tour $2300
Up to 9 people. After 9 people the cost is $100. per person up to 12
Group Tour $250 Per Person. $447 Per person From Nassau
Group Tour $250 Per Person. $447 Per person From Nassau
Private Dive $2000
Up to 4 people
Private Dive $2300
Up to 6 people.
Group Dive $297 Per Person
Group Dive $297 Per Person
Private Fishing $1000
Up to 2 people
Private Fishing $1600
Up to 3 people
Private Fishing $2000
Up to 4 people
Private Fishing $2300
Up to 6 people
Group or Private Dive: includes Scuba Pro BCD, Regulator, Mask, Snorkel, Fins, Weight Belt, Weights, Tanks
Equipment Rental:
BCD $20
Regulator $20
Dive Computer $20
Mask, Fins and Snorkel $15
Tank  $30
Tank Fills $20 per tank
All Prices exclude 12% VAT and Credit Card Processing Fee of 5%
Discover Scuba Diving
Do you want to find out what it's like to scuba but not quite ready for a certification course or you have a busy schedule and just don't have the time to do a full course? Discover Scuba Diving will let you try scuba diving to see if you like it.
While not a full scuba certification, during the DSD experience you'll learn how to use scuba equipment in shallow water (down to 12 meters /40 ft). Get a quick and easy introduction to what it takes to explore the underwater world under the direct supervision of a PADI Professional.
Get a feel of how easy it is to move around underwater while wearing scuba equipment and learn basic skills & safety rules that will carry over to your full scuba certification course when you take the next step. And the most exciting part of all, experience how it feels to breathe underwater and be comfortable.
PADI Discover Scuba Diving: $200 Optional: Open water dive (+$100) (All Prices exclude 12% VAT and Credit Card Processing Fee of 5%)
Course time: 1 day (4 hours)
Content: 1 academic module, 1 confined open water session, Optional: Open Water Dive
Maximum depth allowed: 12 meters / 40 feet, under a PADI Professional supervision
Prerequisites: +10 years old, no previous experience necessary.
NOTE: Minimum 3 or ($900) and Maximum 3
Course Package Includes: All Materials and Equipment
For any questions or concerns you may have about Scuba Diving on Staniel Cay please email us at: dive@stanielcayadventures.com
Cancellation Policy: Cancellations made under 48 hours of departure time incur forfeiture of deposit (50%) and Cancellations the day of incur forfeiture of (100%) of the cost. With the only exception being extreme weather conditions.
  Scuba Diving on Staniel Cay with Staniel Cay Adventures