Have You Ever Seen a Mermaid Playing Piano?
Mermaid Melody Group Tour
Explore the Exuma Cays with Staniel Cay Adventures! This unique boat tour and experience is perfect for those looking for a new and different adventure in the Exuma Cays. Our experienced staff will take you on a journey through the stunning cays, South of Staniel, and you'll get to experience what the area has to offer. Join us for an adventure of a lifetime today!
 Available as a Private Tour or a Small-Group Tour! Depending on the boat, you will never be with more than 12 people ( including yourself) on our biggest boat and 5 on our smallest. We only offer luxury group tours that feel private.
Mermaid Melody Adventure
$300. Per Person Available Only on Wednesday or
Need More Information? – Give us a call!
Info@StanielCayAdventures.com
Text or Call (242) 524-8062 and What's App
Mermaid Melody
If you're looking for a truly enchanting experience, come explore the Bahamian waters with Mermaid Melody. The beautiful boat ride will take you to some of the most secret and exciting attractions in the Exuma Cays. You'll have a chance to snorkel alongside a sunken mermaid and piano, visit a turtle sanctuary, snorkel a sunken plane, walk inside an open cave near the "Fountain of Youth", frolic on White Bay Beach, and enjoy a delicious local lunch in Black Point.
Mr Copperfield did a really cool thing back in 2011. He commissioned the famous underwater museum artist deCaires Taylor to sculpt a statue of a mermaid looking at a grand piano. He then sank the sculpture in about 13-15 feet of water off of Rudder Cay, which is just south of Musha Cay, and had a contest to see who could find it.
As you descend into this strange new world, you can see the Musician that was installed in 2011. The Musician is a stand-alone sculpture that includes a full-scale mermaid and Steinway concert grand piano replica. It is hidden underwater for snorkelers to discover near a private island owned by the illusionist David Copperfield. The piano plays soft music, similar to the sound of a whale or dolphin, as divers approach, and was constructed using 316 stainless steel. The mermaid, waiting to play, is made from pH-neutral cement to encourage marine growth.
The Musician: Piano and Mermaid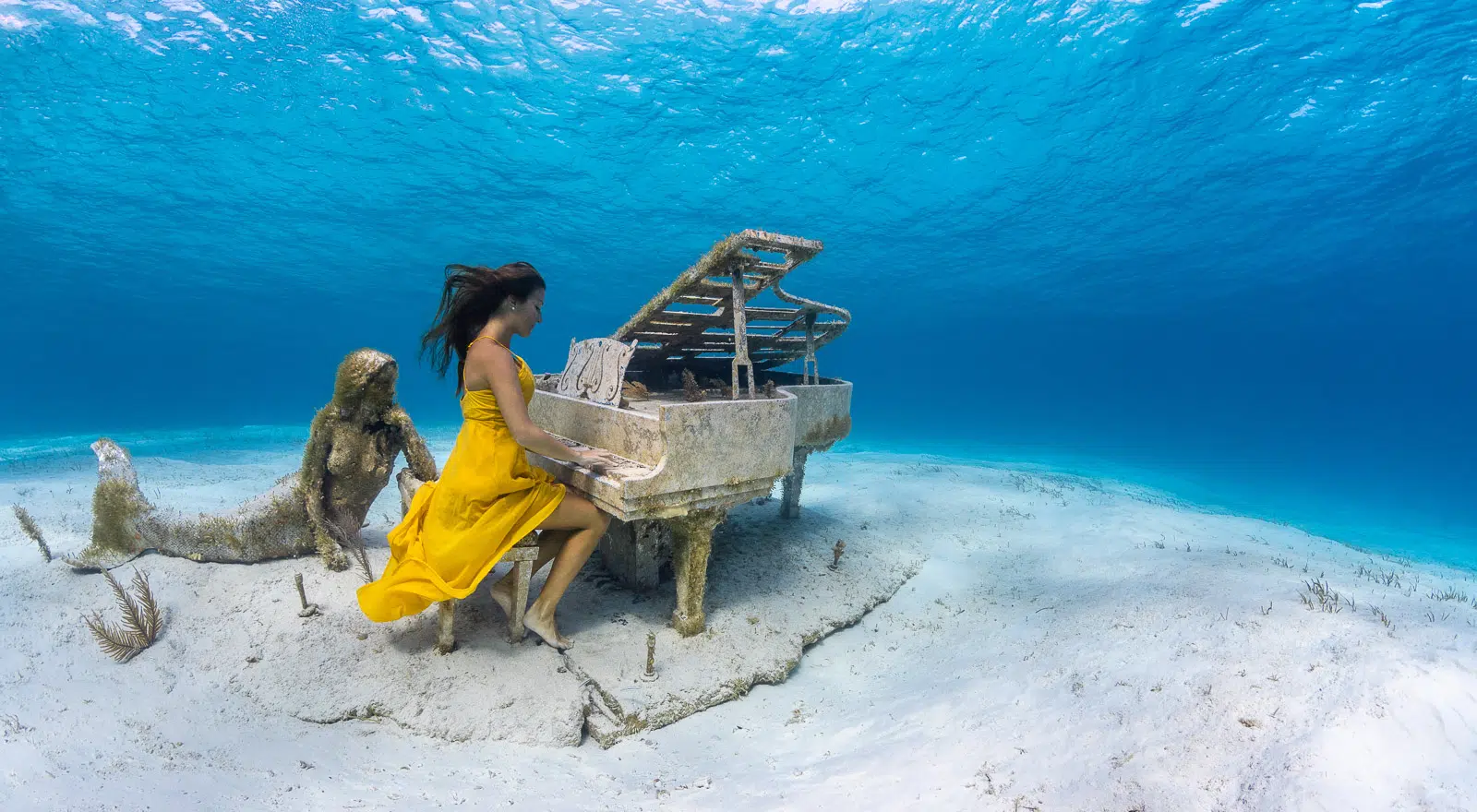 André Musgrove is an Underwater Cinematographer/ DP, Underwater Photographer, Professional Freediver, Spearfisherman, Underwater Stunt Performer and Private Dive Guide born and based in The Bahamas. Growing up diving in The Bahamas gives him vast knowledge of the best underwater locations and marine wildlife hotspots across the country. He has worked on a variety of projects with international brands including Discovery Channel, National Geographic, GoPro, Canon, Rolex and World Wildlife Fund (WWF).
André is best known for his unique style of shooting creative concepts underwater with people and marine wildlife as the subjects, in unique underwater environments. He specializes in filming/ photographing natural history. commercials and campaigns either on scuba or while freediving (on breath-hold), allowing closer, less invasive, and more intimate interactions with large megafauna. André has extensive experience working with large sharks including Tiger Sharks, Hammerheads Sharks, Bull Sharks, Reef Sharks, and Lemon Sharks.
You follow the model Step Lynn on Instagram  and Andre Musgrove on Instagram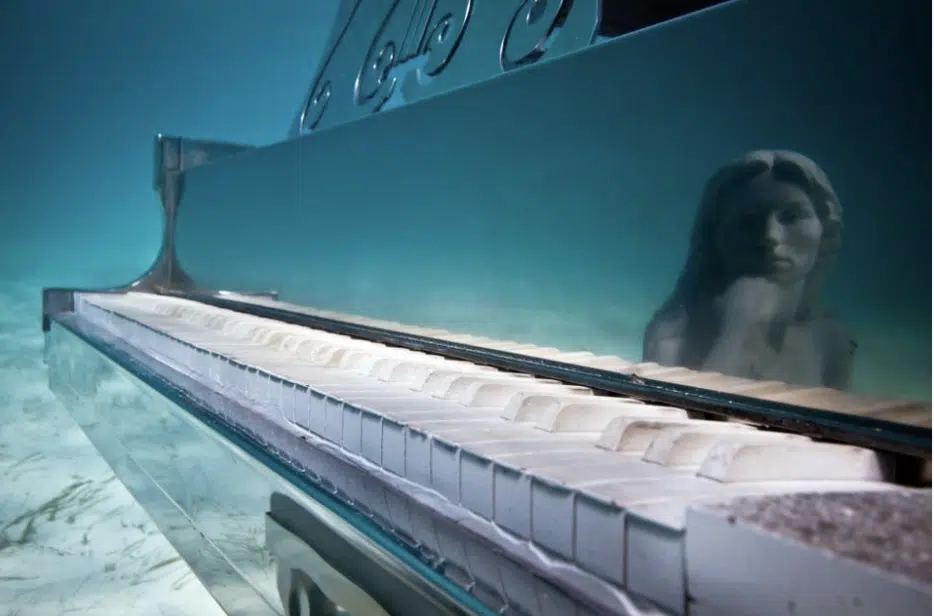 Jason deCaires Taylor (b. 1974) is a sculptor, environmentalist and professional underwater photographer. Taylor graduated from the London Institute of Arts in 1998 with a BA Honours in Sculpture. Taylor became the first of a new generation of artists to shift the concepts of the Land art movement into the realm of the marine environment.
deCaires Taylor Underwater Museums
When most people think of museums, they think of ancient relics, artwork, and other treasures from times long past. But what if I told you that there was a museum unlike any other in the world? A museum where the exhibits were alive and constantly changing? This is the unique world of deCaires Taylor's underwater museums. You can also see Ocean Atlas in Nassau, Bahamas.
The sculptures contained within these museums are designed to act as both an educational tool and a warning sign. They showcase the beauty and diversity of marine ecologies while also highlighting the dangers that humans pose to these ecosystems. Each sculpture contains its own personal message, as deCaires Taylor hopes to inspire people to take care of our oceans. Each artwork is brought alive through its union with the biological marine life that attaches to it, and thrives.No two visits to any given sculpture will be quite the same. The changing formations of the sea surface affect the filtered light that scatters down to the ocean floor, and depth alters the visual spectrum of color that can be seen. Spawning and other ocean cycles also change the dynamic of these artworks, as it also affects the visibility of the waters while bringing forth new life to seed the sculptures, which may take hold and grow.
Over the past few decades, we have lost over 40% of our natural coral reefs. The World Resources Institute projects that 90% of coral reefs will be in danger by 2030, and all of them by 2050. The significance of these museums is highlighted in the creation of the world's first underwater sculpture park, which was founded and constructed by deCaires Taylor in 2006 and is recognized as one of the top 25 Wonders of the World by National Geographic.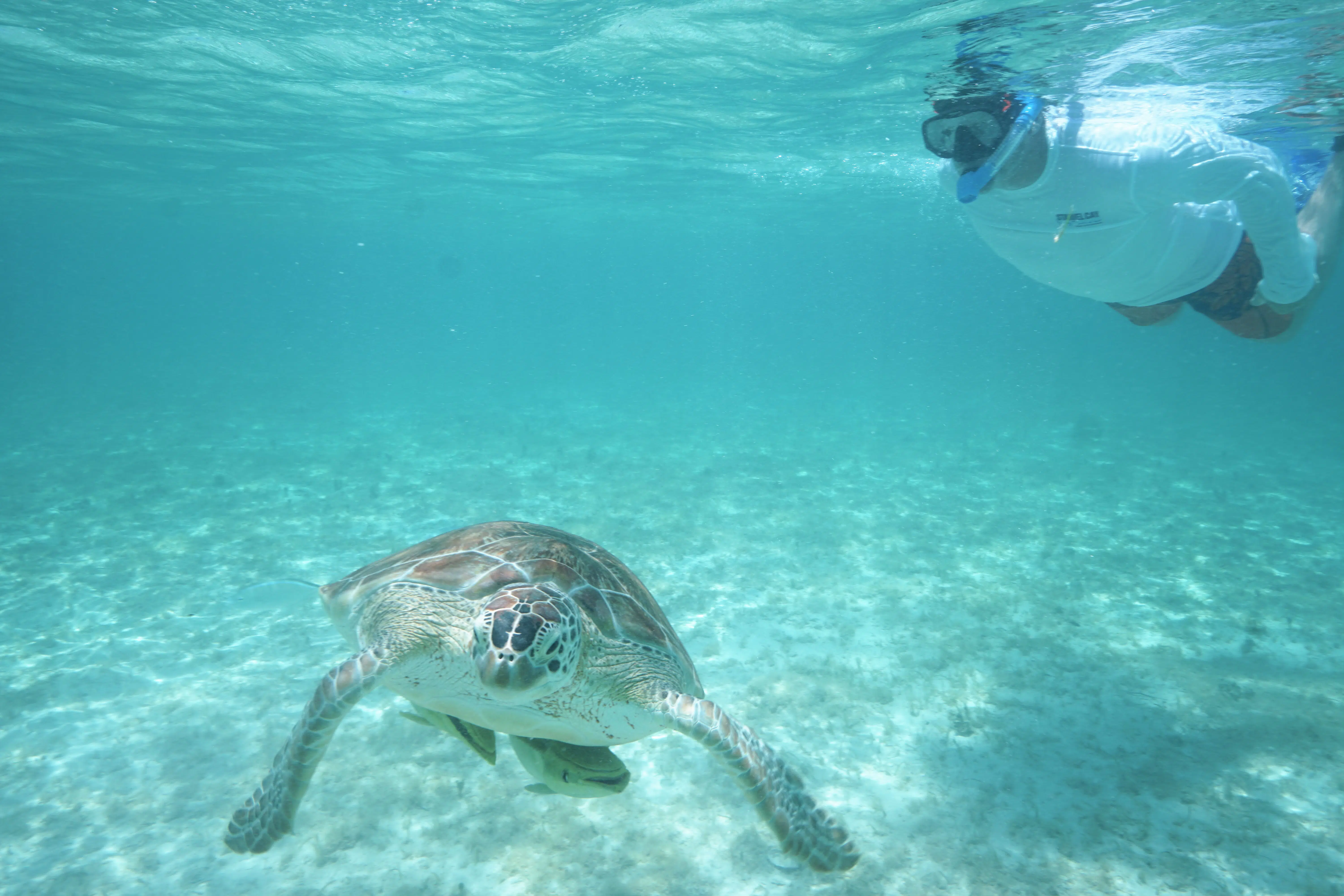 Turtle Santuary
The Exuma Cays are also home to some amazing turtle sanctuaries. This is a great place to see these gentle creatures up close and learn more about their habits and habitats. There are also plenty of beautiful beaches to explore, and some great local restaurants to enjoy. So what are you waiting for? Come explore the Exuma Cays with Mermaid Melody!
Copperfield Bay
"I've discovered a true phenomenon," David Copperfield, told Reuters.
"You can take dead leaves, they come in contact with the water, they become full of life again.
"Bugs or insects that are near death come in contact with the water, they'll fly away.
"It's an amazing thing, very, very exciting."
David Copperfield, who famously made the Statue of Liberty seemingly disappear in 1983, claims he found the revitalizing waters on one of four small Bahamian islands.
David Copperfield  said he has hired biologists and geologists to examine the water's effects on humans – but he's not inviting anyone to come to swim in or drink from the fountain just yet.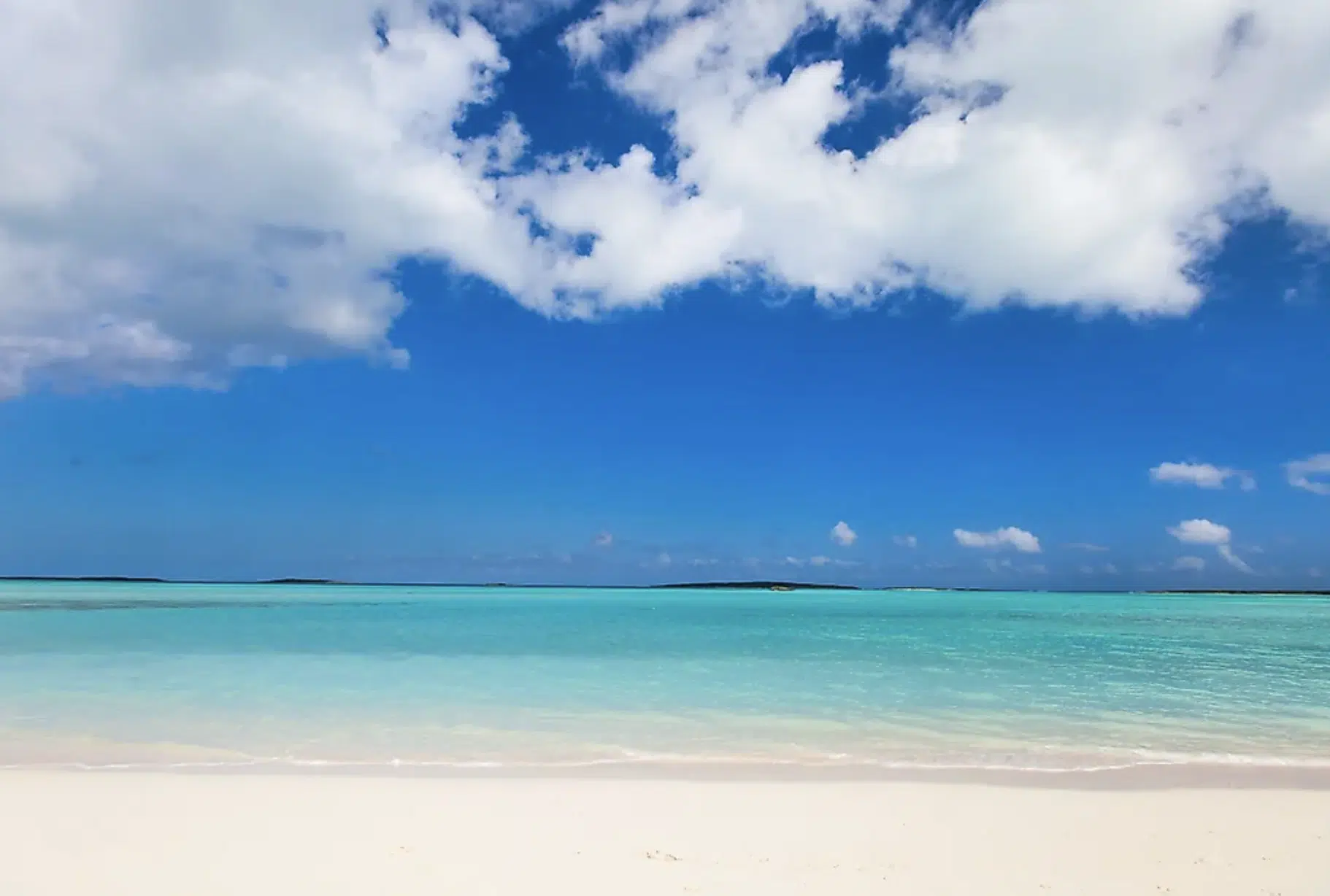 Located in the Exuma Cays chain of islands,  the illusionist David Copperfield conceived and brought to life the Islands of what are now knowns as Copperfield Bay. He left the original name, Musha Cay, for the largest island of this 11-island property, where ultra-wealthy, high-end visitors are drawn by the islands' seclusion.
It is here that pirates once hid out, followed later by Caribbean cocaine drug lords, only to have the likes of the world's wealthiest follow in their footsteps today. Indeed, Bill and Melinda Gates, Jim Carrey, Oprah Winfrey, John Travolta, and Google co-founder Sergey Brin (who chose to get married there) have all sought refuge at Copperfield Bay.
Sunken Plane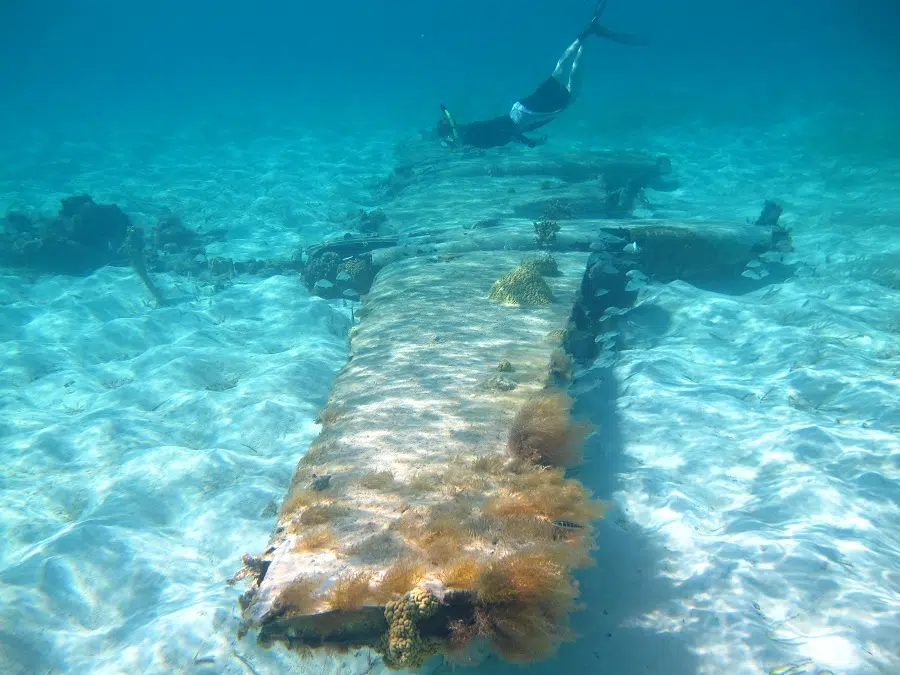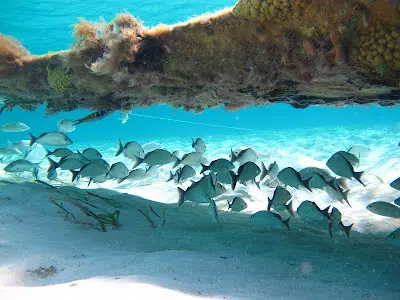 White Bay Beach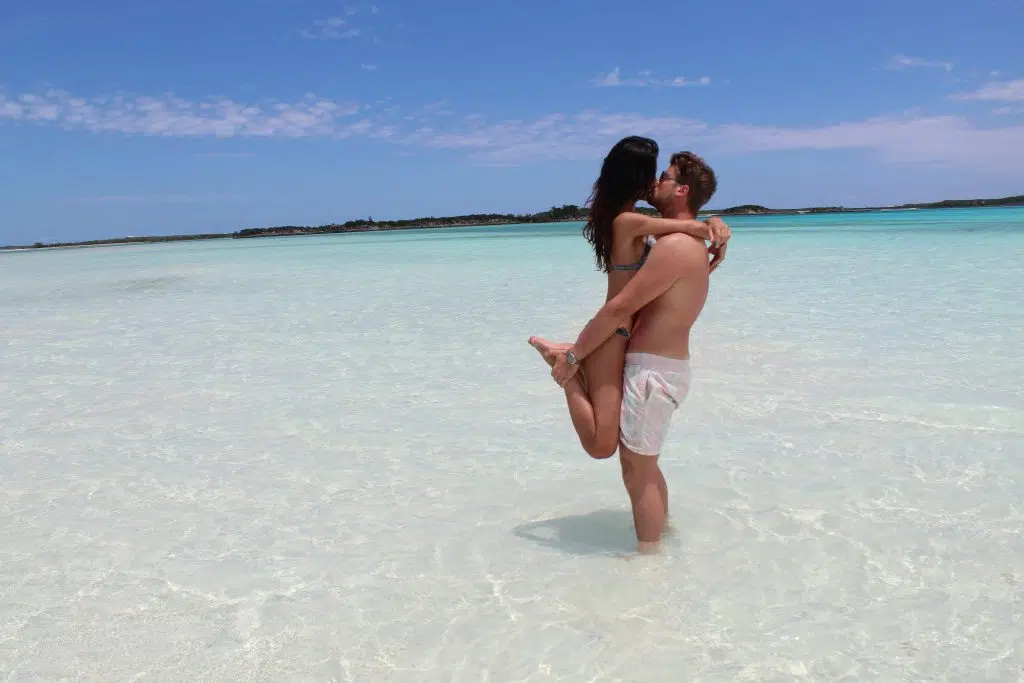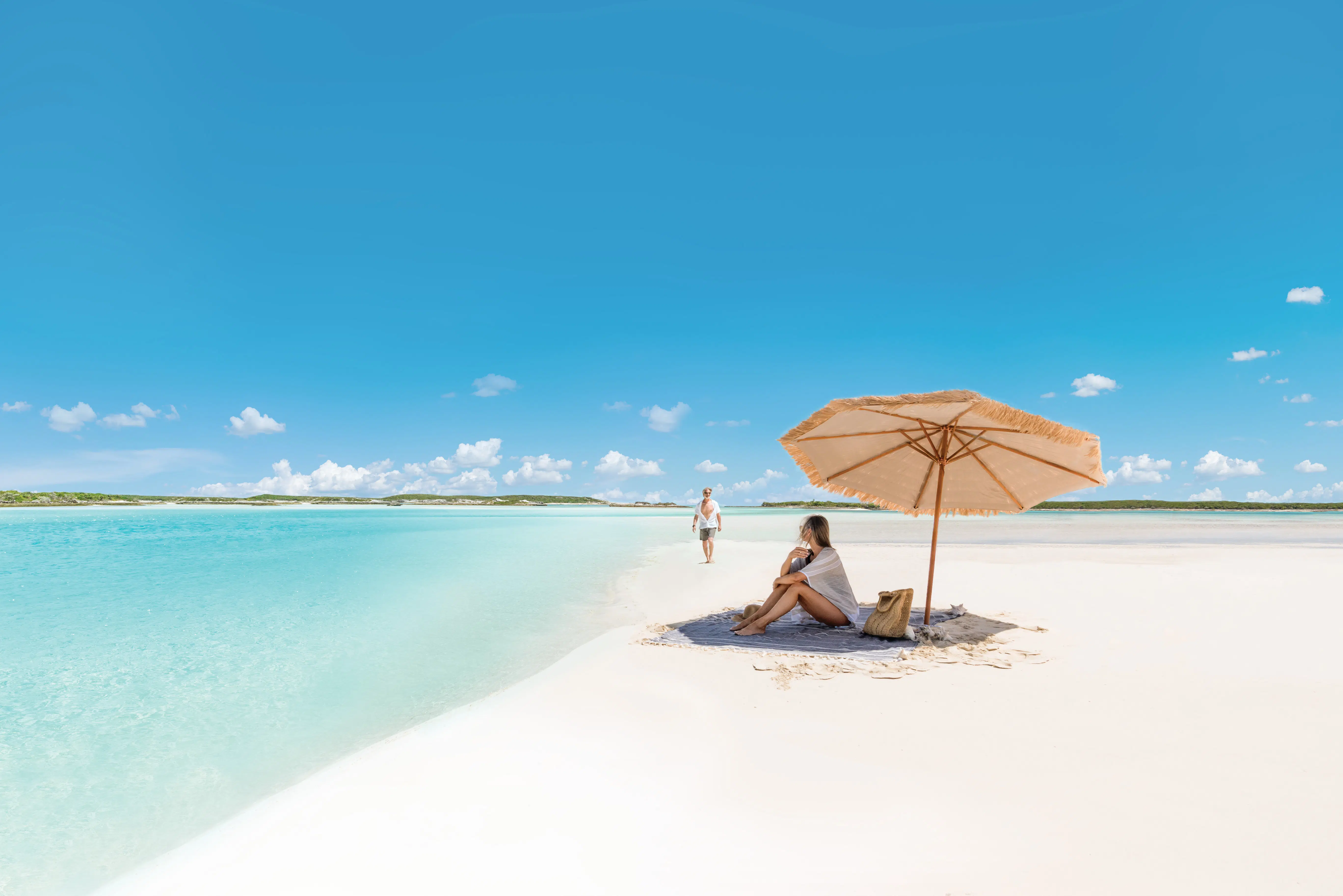 Cave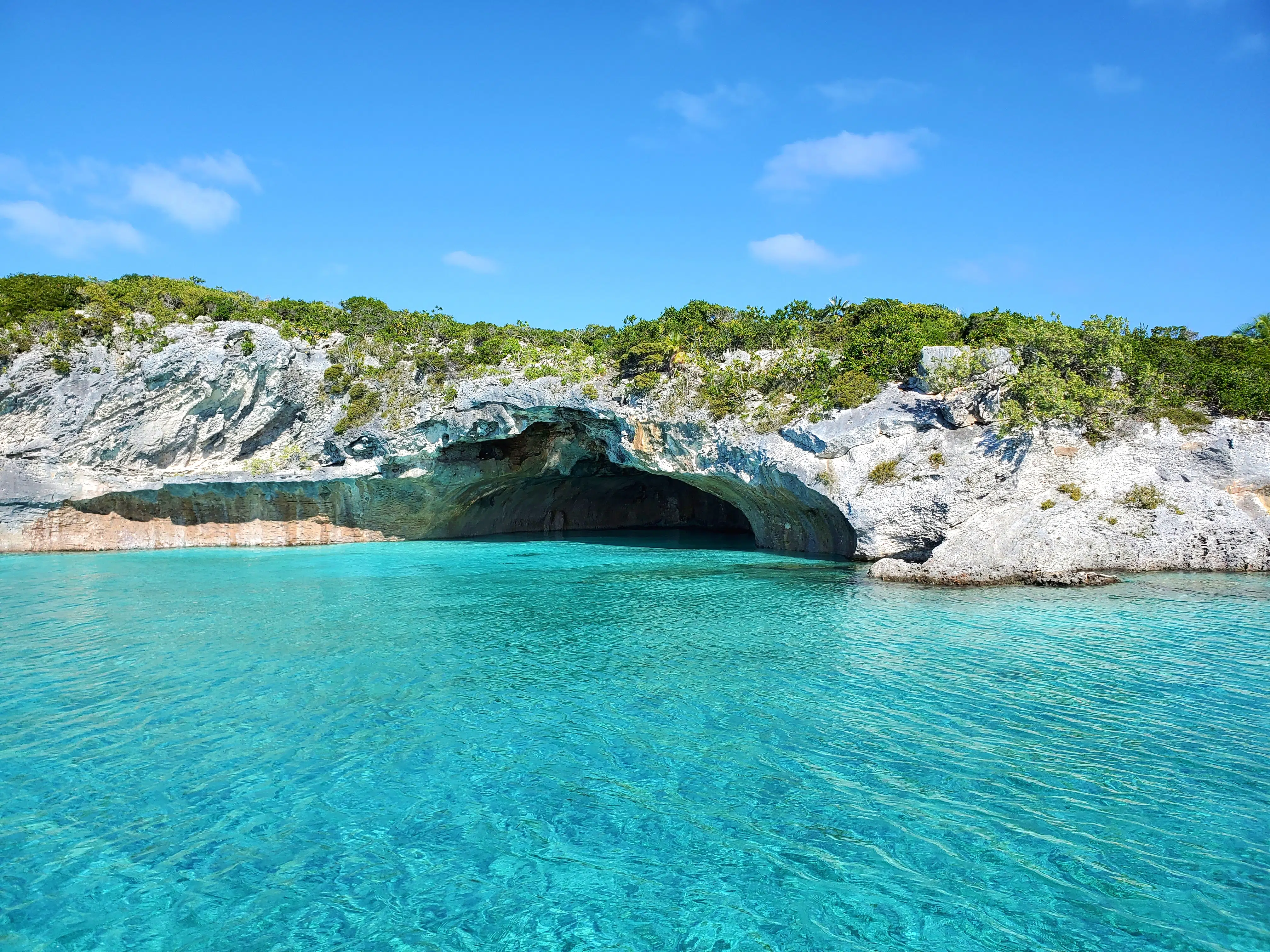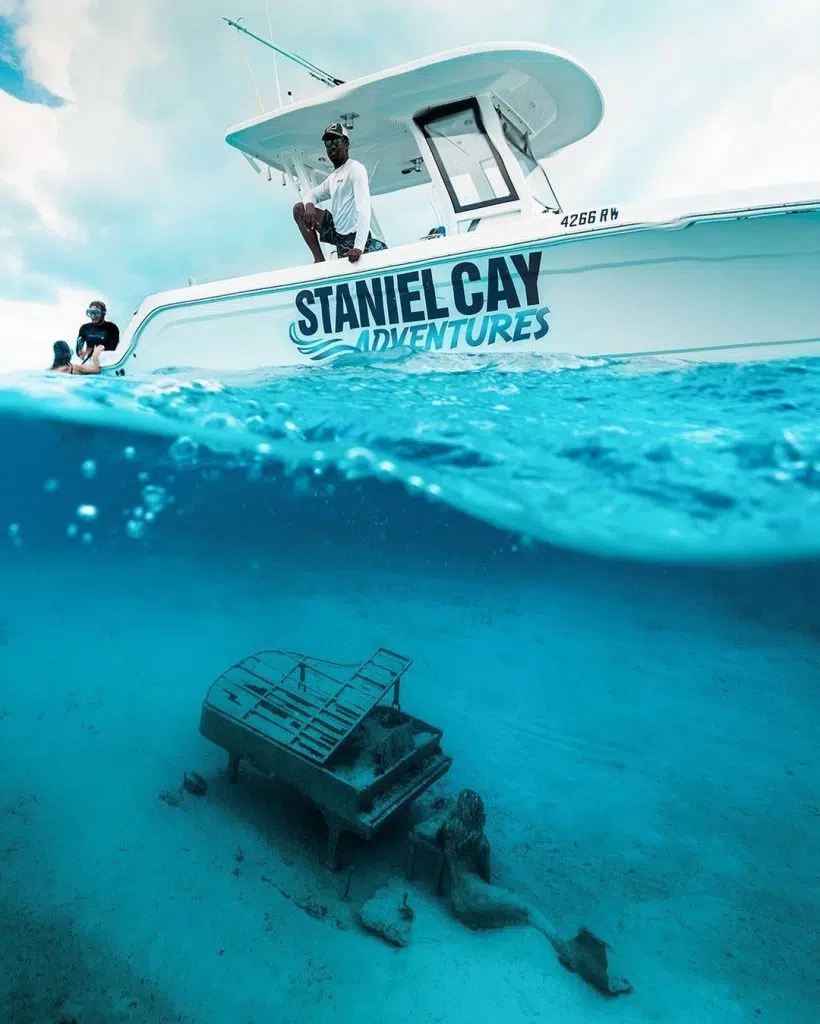 Who will our tour guides be for the Mermaid Melody Tour?
We have licensed local captains that have all grown up in the Exuma Cays and have many years of experience.
Can I book a private trip?
Yes, we offer private charter trips. Please see the chart below.
Where do we meet for pick up?
When you land on Staniel Cay, we will be right there to greet you.
Is lunch included?
No, lunch is not included on the Swimming Pigs Staniel Cay Day Tour. We offer snacks, water, and soda.
Will there be somewhere to leave our personal items while on the Staniel Cay Adventures Tour?
Our boats have dry areas that we can stash your personal belongings during the tour.
How much tip do you think we should give?
Tips can vary depending on how many people are in your group.
Can I give a tour as a gift?
Of course, you can! Email us or give us a call, and we can help if you want it to be a surprise.
How much cash should we take and do they accept U.S. currency?
Yes, every island accepts U.S. currency and Bahamian Currency. Bring enough money for souvenirs and $10.00 for swimming with the Compass Cay Pet Sharks.
What is Provided For Mermaid Melody Tour?
Fluffy Towels
Water and soft drinks with lots of ice for those hot days
Snacks
Fish and Pig Snacks
Sunscreen if needed
Snorkeling gear that is professionally maintained
Beach chairs and floats
Phone Chargers and power supply
Digital photos for download
Local and experienced Boat Captain
You provide:
Camera or smart phone
Swim suit, hat and cover up for sun protection
Cash for lunch, tips and $10 per person to swim with the pet sharks
Who Should Not Go On a Staniel Cay Adventures Tour
Not recommended for pregnant women
Not accessible for the physically challenged
Not recommended for people with back problems or who have had a recent back surgery
Not recommended for people with respiratory or heart problems
Not recommended for people with a recent arm/hand surgery
Not handicapped accessible
How far in advance do you need to book a Staniel Cay Adventures tour?
The further out you book, the better chance of booking your preferred date. Staniel Cay Day Tours get booked fast make your booking in advance if you can't then email or call us and we will try to accommodate your schedule.
What Do We to Bring on the Tour
What should we wear for a Staniel Cay Adventures Tour?
Wear appropriate weather gear and always have a swimsuit on underneath!
Can I book Staniel Cay Group Tours by phone?
Do we have to tip our Tour Guides?
Tips are not required but are much appreciated; more than often, people provide tips to our captains.
Does the tour still go out if it rains?
We go out as long as the weather permits, depending on the water condition and how heavy the rainfall is we will try to make it out rain or shine. We do have rain protection if needed. It is rare to have a full day of rain.
Staniel Cay, Exuma Bahamas
Do you want to stay in touch and notify you when we announce new services? Join the Club. Sign up here!