Fun Things To Do On Staniel Cay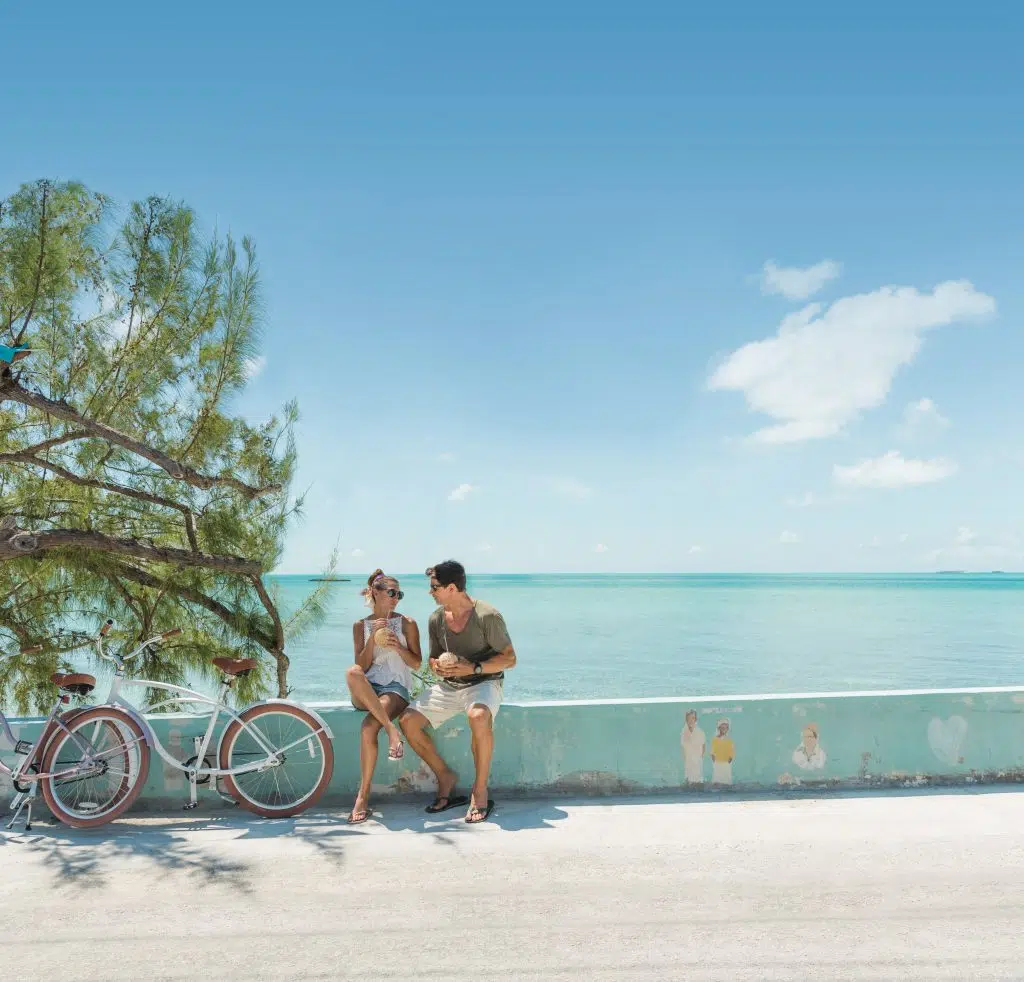 If you are used to spending your vacations in bustling cities full of people and activity, Staniel Cay will be a bit of a change of pace. The small cays in the Exumas are known for their laid-back atmosphere, friendly locals, and beautiful beaches. While it may be different from what you're used to, there's no need to worry – you'll quickly fall in love with the slower pace of life here.
One thing you may notice right away is that everyone seems to know each other. In such a small community, it's not uncommon for people to stop and chat when they pass one another on the street. Don't be surprised if strangers strike up a conversation with you – they're just being friendly!
At Staniel Cay Adventures we think Staniel Cay is the reason for Instagram. With sapphire-blue water everywhere, The Exuma Cays are an exotic collection of dream destinations. Footprint-free beaches, ultra exclusive resorts and islands fit for celebrities make this tropical paradise an absolute gem. Here, nature outnumbers man, coastlines remain flawless and private homes play host to some of the world's most famous stars. The Exuma Cays truly are the ultimate escape.

Visit Staniel Cay  in the Exuma Cays Bahamas and have an adventure you will share for years to come! Flights to Staniel Cay are available from Makers Air.

Incredible snorkeling around Staniel Cay and the Exuma Cays
Staniel Cay is one of the many beautiful islands in the Bahamas. It is well known for its stunning beaches and clear turquoise waters. The snorkeling here is some of the best in the world, with an abundance of colorful fish and coral to explore. You will want to visit the Exuma Land and Sea Park for incredible snorkeling experiences, including The Aquarium, Norman's Cay Sunken Plane, and the many untouched grottos and coral reefs.
This snorkeling guide is for around Staniel Cay and in the Exuma Land and Sea Park and is the best practice anywhere. If you're a beginner, getting comfortable with snorkeling in a calm, shallow area before venturing into deeper water is essential.
When snorkeling in a park or other natural area, always observe all posted regulations and respect wildlife. Pick up all trash and never touch or disturb coral. When entering or exiting the water, please do so carefully to avoid stepping on coral heads. Finally, be sure to use sunscreen and often reapply, especially if you'll be in the water for extended periods.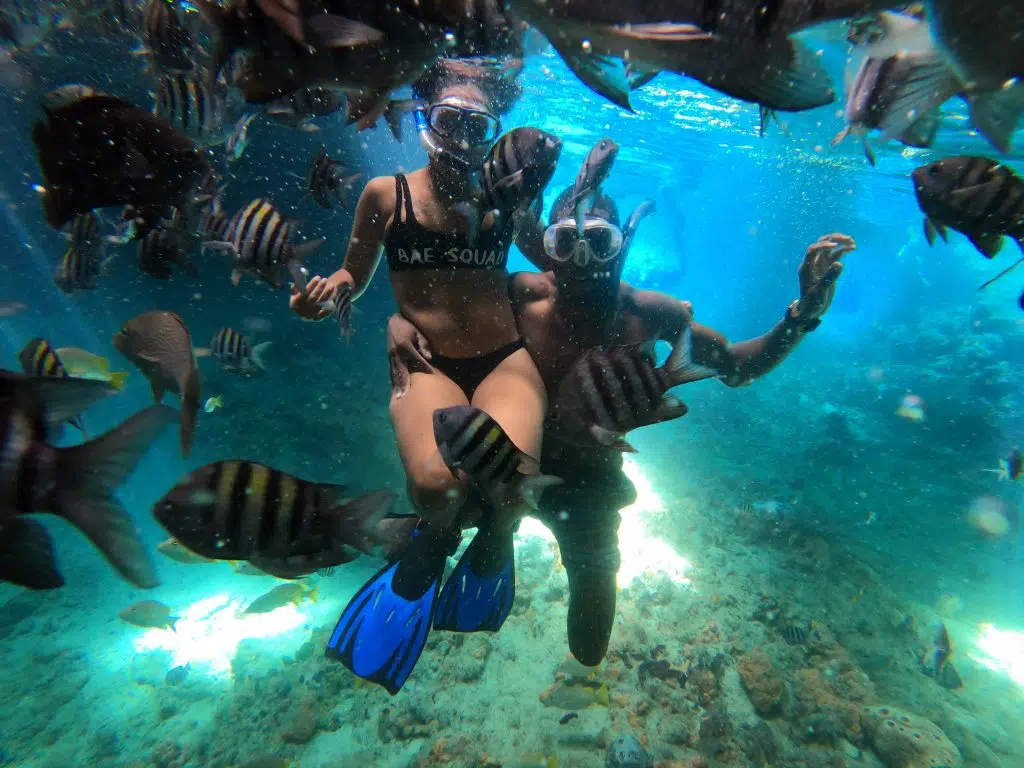 Learn to Scuba Dive on Staniel Cay
Want to Scuba Dive  or discover scuba diving around Staniel Cay ?
Staniel Cay Adventures provides boutique scuba diving experience, we cater to small groups of six people or less and focus on personal attention, comfort, safety, and environmental responsibility. We have a luxury boat and keep our service very personal. Join Cameron a PADI Dive Instructor for a dive or two in crystal clear water. Not certified? No problem! Take our Discover Scuba Class for ages 10 years and up.
The Swimming Pig on Pigs Beach
No visit to Staniel Cay would be complete without seeing  the original and now famous Staniel Cay swimming pigs.
Gently touching and petting the pigs is acceptable, but as a general rule, treat the pigs with respect as you would any animal. Please avoid teasing the pigs, putting your hand near their mouth, or trying to ride them.
Pigs being pigs, they'll eat anything. The Bahamian Minister of Agriculture and Marine Resources has asked that tourists only feed the pigs pitted fruit and vegetables. The pigs are ONLY to be fed in the water where there is less chance of them ingesting sand. Please read the signage posted on the beach.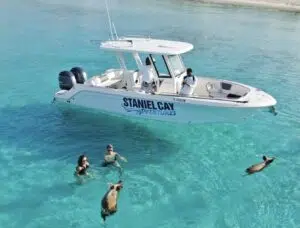 Want to head out fishing around Staniel Cay, Exuma ?
Try conch diving, bone fishing, spearfishing, deep sea fishing, reef fishing or traditional Bahamian-style hand line fishing. We have all the gear to get you catching the fish for dinner.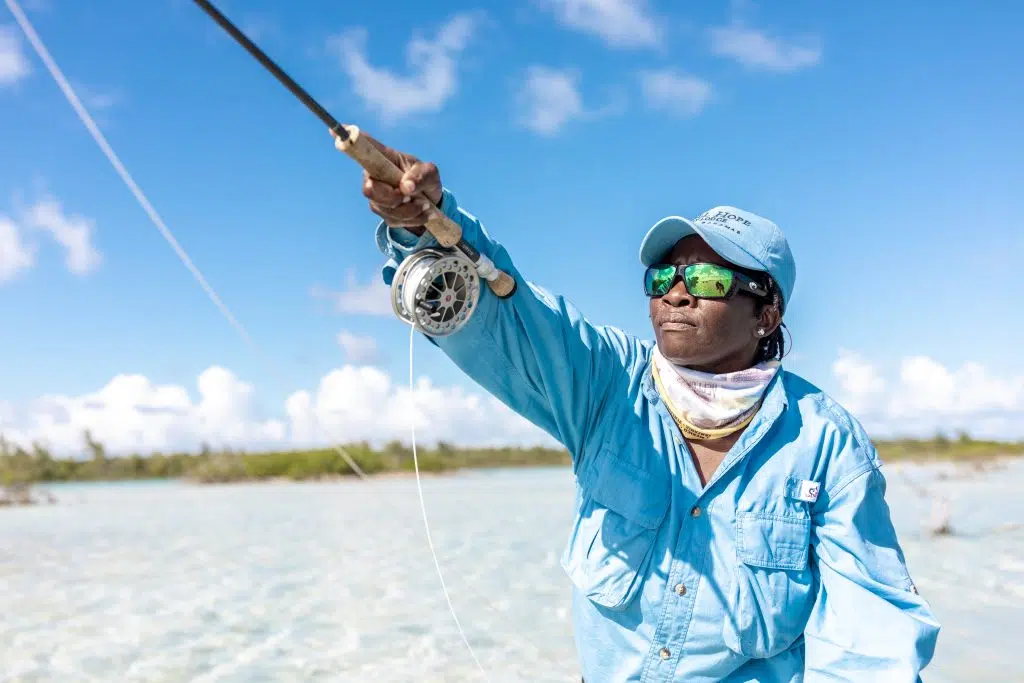 Swim with the Famous Nurse Sharks at Compass Cay
Does swimming with the sharks sound dangerous? Nurse sharks, the bottom-dwelling sharks that live in the warm, shallow waters of the Bahamas are a friendly bunch. You'll have plenty of opportunities to get up close at Compass Cay just north of Staniel Cay.
The nurse sharks are – for the most part – harmless to swimmers and snorkelers.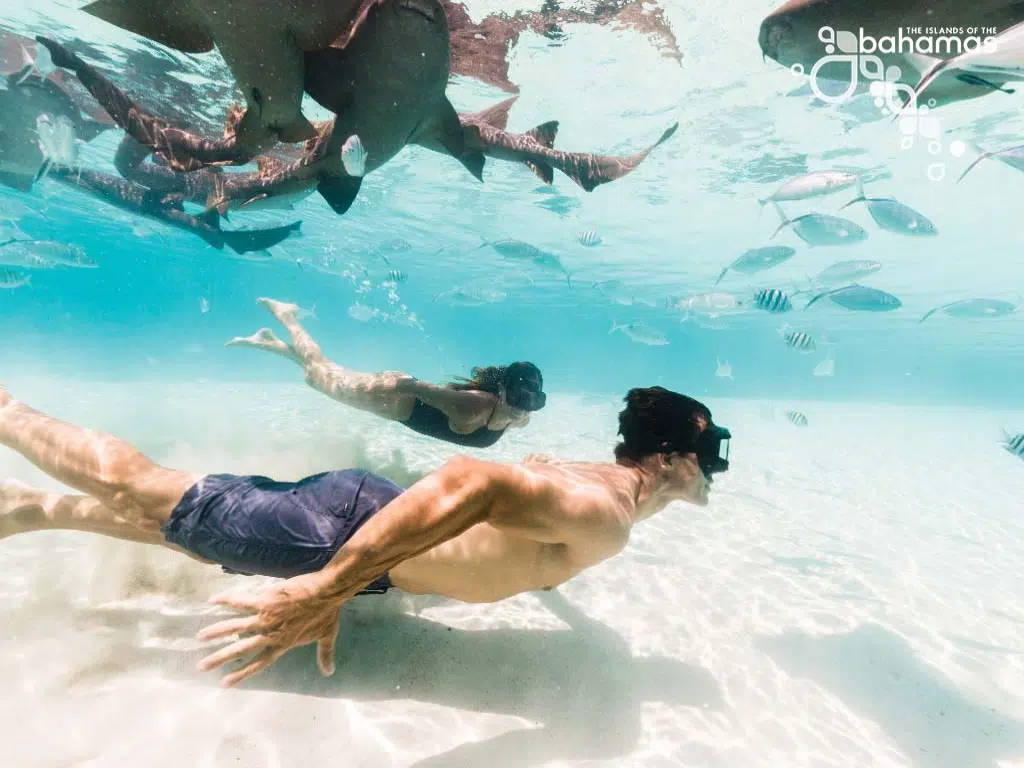 Have You Ever Seen a Mermaid Playing a Piano?
Piano and Mermaid

 You'll be astonished at what can be found just under the surface of the breathtaking Bahamian waters. Enjoy a beautiful boat ride to some of Exuma Cay's most secret attractions that are like no other! Mr. Copperfield did a really cool thing back in 2011. He commissioned an artist to sculpt a statue of a mermaid looking at a grand piano. He then sank the sculpture in about 13-15 feet of water off of Rudder Cay, which is just south of Musha Cay, and had a contest to see who could find it. Since then it has become a go-to site for snorkeling among cruisers, charters, and day boats tours .
"Dis we culture" Local knowledge is the best knowledge. Have a Bahamian style day on the boat and beach. Learn  Bahamian techniques of hand line fishing, spearfishing and rod fishing to catch, your fish for the day. Also we will try to free dive for Conch so that we can prepare the Bahamian style ceviche AKA "Conch Salad". We will clean the fish with or for you and prepare them with traditional Bahamian spices to finish them off over the old style Bahamian beach grill on a white sandy beach. You will be able to enjoy beach games as well as water towables including tubes and knee-boards. We will provide ice cold beverages of your choice on the beach as you enjoy some traditional Bahamian music.
This whole experience is what The Bahamas is all about! You will truly feel like a local after taking part in this once in a lifetime experience. Also take what you learn and then go do it yourself and show your friends because you will truly be able to show them a unique experience!
When you are in Staniel Cay you can enjoy spear fishing, conch diving, seafood grill out, conch salad mixing, pristine beach picnic, local music, beach and water games, and water toys (Tubing, and/or knee boarding).
The Washing Machine also known as Lazy River or Waterslide
A 30 minute boat ride from Staniel Cay you will find The Washing Machine on Shroud Cay (located in the Exuma Land & Sea Park) will give you quite the rush as you're turned head over heels for a couple of minutes. Just like the namesake piece of laundry equipment, it's ultimately refreshing. Once you're released from the gentle swirl, you'll find yourself above a majestic reef home to an incredible spectacle of dazzling marine life: including placid sea turtles and a variety of fish. It's quite the adrenaline kick, so come experience it for yourself!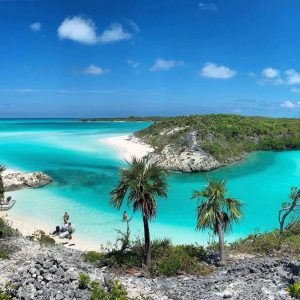 Staniel Cay It's Da Ting To Do!
If that's not enough, use this list to get you started.
1. Beaches on Staniel Cay
3. Discover Scuba or Scuba Diving
4. Visit the Exuma Land and Sea Park
5. Head to Little Farmers Cay for the day and see the turtles.
6. Have lunch at Black Point
7. Take a walk and explore
8. Meet friends at the Staniel Cay Yacht Club
9. Snorkel the sunken plane at the end of Staniel Cay
10. see the Mermaid playing the piano
12. Friday Souse Night at Bigs Dogs
15. See the Swimming Pigs
16. Read a Staniel Cay book
18. Visit the sandbar on the backside of Sampson Cay
19. Visit the sandbar at Pipe Creek
20. Swim with the Nurse Sharks at Compass Cay.
21. Snorkel Thunderball Grotto
22. Snorkel Rocky Dundas Cave
23. Bahamian Rock Iguanas on Bitter Guana Cay