Boats On Staniel Cay, Exuma
We offer variety of scuba diving trips, tours and charters with each tailored to your adventure desire. Whether you want to catch hot Bahamas sun, cruise into the sunset, explore wild uninhabited tropical islands, take a professional fishing charter, boutique scuba diving experience or celebrate that special event in your life, we surely have a charter for you! So, give us a call and let us make your Staniel Cay Adventure come true!
Robalo R272 Center Console Hard Top

Great Timing is brand new and  sparks an adrenaline rush unlike any other fishing boat. Unique style. Phenomenal overall performance. Dry ride. Taco "Grandslam" Outriggers , Best-in-class features, perfect for scuba diving. The R272 is also primed to tackle any fishing adventure.
A full bench seat flips up and into the transom making a perfect area to land your prize winning fish. The livewell is molded into the port side gunwale and topped with a clear view hatch. In the bow, the R272 provides ample seating to take the boat from fishing to entertaining.
A fishing trip feels like a day cruise when you're out on a Robalo. Engineered by the best for the worst of conditions, you will feel the difference that hydro-lift provides. A freshwater wash down is conveniently located on the back of the boat to rinse off.
Boston Whaler 180 Dauntless with Bimini Top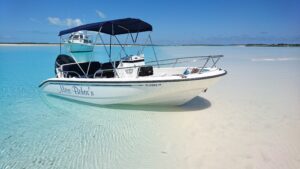 Miss Behav'n invites on-water adventure of every type. Anglers benefit from ample amenities, space and control, while watersports fans will love the powerful yet nimble performance. Every passenger will appreciate the comfort and style that denotes Boston Whaler's emphasis on true quality, as well as the confidence Whaler inspires every time.
Six console-mounted rod holders keep your rods right within reach.
Reversible pilot seat with locking backrest
Yeti Cooler.
Integral swim platform features a telescoping ladder to make water access effortless.
Robust aft seating converts to form a wide casting deck.
 Livewell
Sports package with Popular All-Activity Tower(TM) a tow bit and additional watersports capability.
Boston Whaler 220 Dauntless with Bimini Top
Bad Company is a center console champion of versatility and ease, well equipped with amenities and options for active families and serious anglers. Factor in the unsinkable safety, smooth handling and its soft, dry ride that comes from a legendary boat builder.
Bow sun lounger features bow, port and starboard cushions and dual fold-up backrests.
Large livewell with insulated interior in the console protects every trophy catch.
Premium stereo.
Yeti Cooler
Pro Line 25 Sport With Hard Top
Plan Sea is a  25 Sport that includes all the standard-equipment fishing features you'd expect, it has an optional live well module, a fish box under the foldaway transom seat, room for three rods under each gunwale, two rod holders in each gunwale and a tackle-box storage locker. Surprisingly, this 25 has more rod storage than many larger boats, with room for 18 sticks through out the boat. It provides hardcore fishing amenities and good offshore performance without sacrificing the few creature comforts needed to keep Mom and the kids happy.
Miss Behav'n
18' Dauntless Boston Whaler
Bad Company
22' Dauntless Boston Whaler
Plan Sea
25' ProLine
Great Timing
27' Robalo

Private Tour $1000
Up to 2 people. After 2 people the cost is $100 per person up to 5
Private Tour $1600
Up to 4 people. After 4 people the cost is $100. per person up to 8.
Private Tour $2000
Up to 6 people. After 6 people the cost is $100. per person up to 10
Private Tour $2300
Up to 9 people. After 9 people the cost is $100. per person up to 12
Group Tour $250 Per Person. $447 Per person From Nassau
Group Tour $250 Per Person. $447 Per person From Nassau
Private Dive $2000
Up to 4 people
Private Dive $2300
Up to 6 people.
Group Dive $297 Per Person
Group Dive $297 Per Person
Private Fishing $1000
Up to 2 people
Private Fishing $1600
Up to 3 people
Private Fishing $2000
Up to 4 people
Private Fishing $2300
Up to 6 people