Experience Norman's Cay & The Land and Sea Park
Private Tour to the Exuma Land & Sea Park
Explore the Land and Sea Park and Normans Cay with Staniel Cay Adventures! This unique experience is perfect for those looking for a new and exciting adventure in the Exuma Cays. Our experienced staff will take you on a journey through the stunning Exuma Land and Sea Park to Normans Cay, and you'll get to experience what the area has to offer. So join us for an adventure of a lifetime today!
Exuma Land & Sea Park & Normans Cay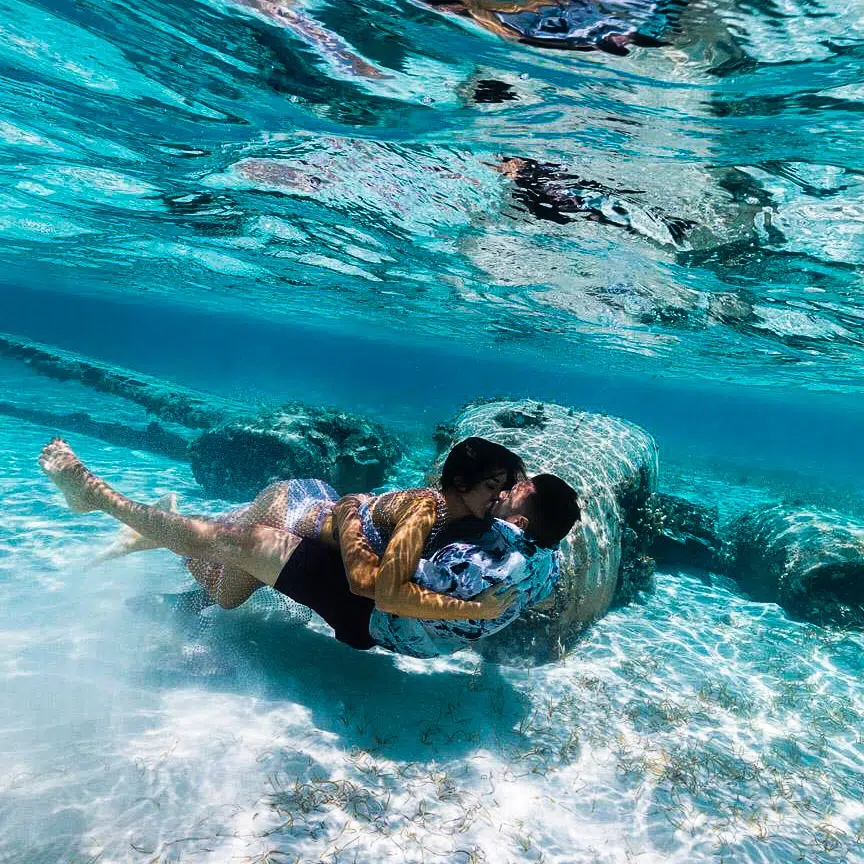 Normans Cay and the Exuma Land and Sea Park offer plenty of opportunities for exploration and relaxation. Swimming in Rachel's Bubble Bath, snorkeling and exploring Rocky Dundas, frolicking on Shroud Cay sand bar, and snorkeling Pablo Escobars drug plane are just some of the activities you can enjoy. And we'll enjoy lunch on Norman's Cay at the Famous Mc Duffs!
The Curtiss C-46 Commando was one of Pablo Escobar's many transport planes for his business. This particular plane crashed near Norman's Cay in the Bahamas in 1985 and still sits there today. Snorkeling fun!
McDuff's Resturant
MacDuff's Restaurant takes the stress out of fine dining. With a pleasant, mellow vibe fitting of the Bahamas, the rustic chic appeal and exposed wood beams are designed to give patrons a relaxed island experience.
Whether you're in the mood for something ice cold and refreshing, or something tropical and sweet, friendly bartenders are always on-hand to mix up a tantalizing concoction with local favorites such as Goombay Smash, Bahama Mama or a Mango Daiquiri.
Executive Chef Jason Wallace has brought his international culinary expertise and thoughtful attention to detail to MacDuff's Restaurant and Grille. He believes that people eat with their eyes first; therefore, each dish must be plated to impress. Skillful, passionate and creative, Chef Wallace endeavors to make each and everyone's dining experience at MacDuff's Restaurant and Grille a memorable one.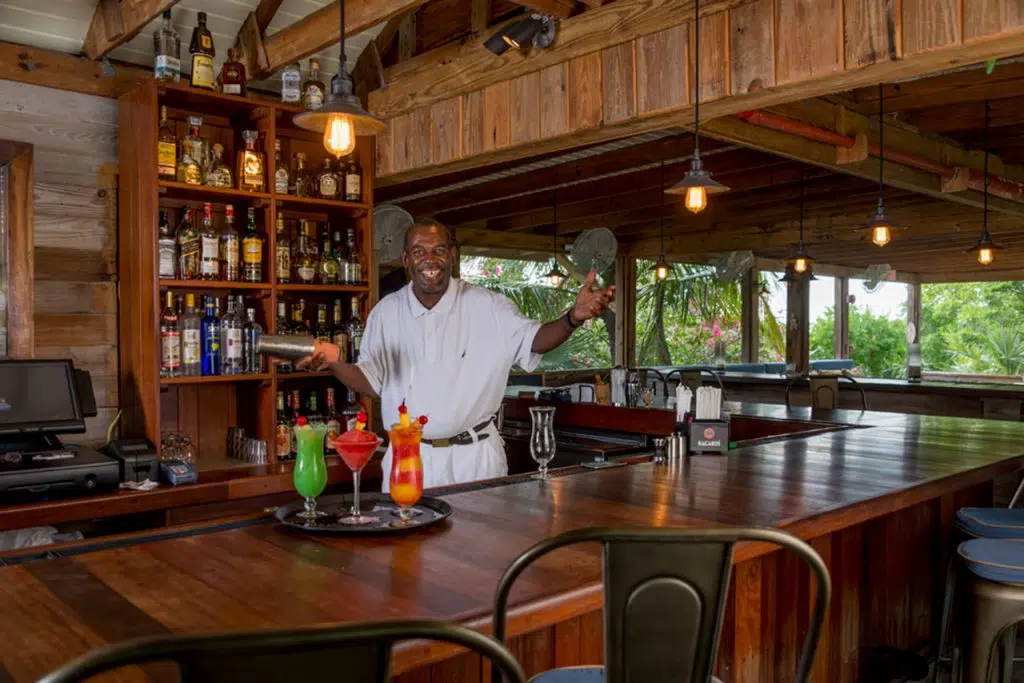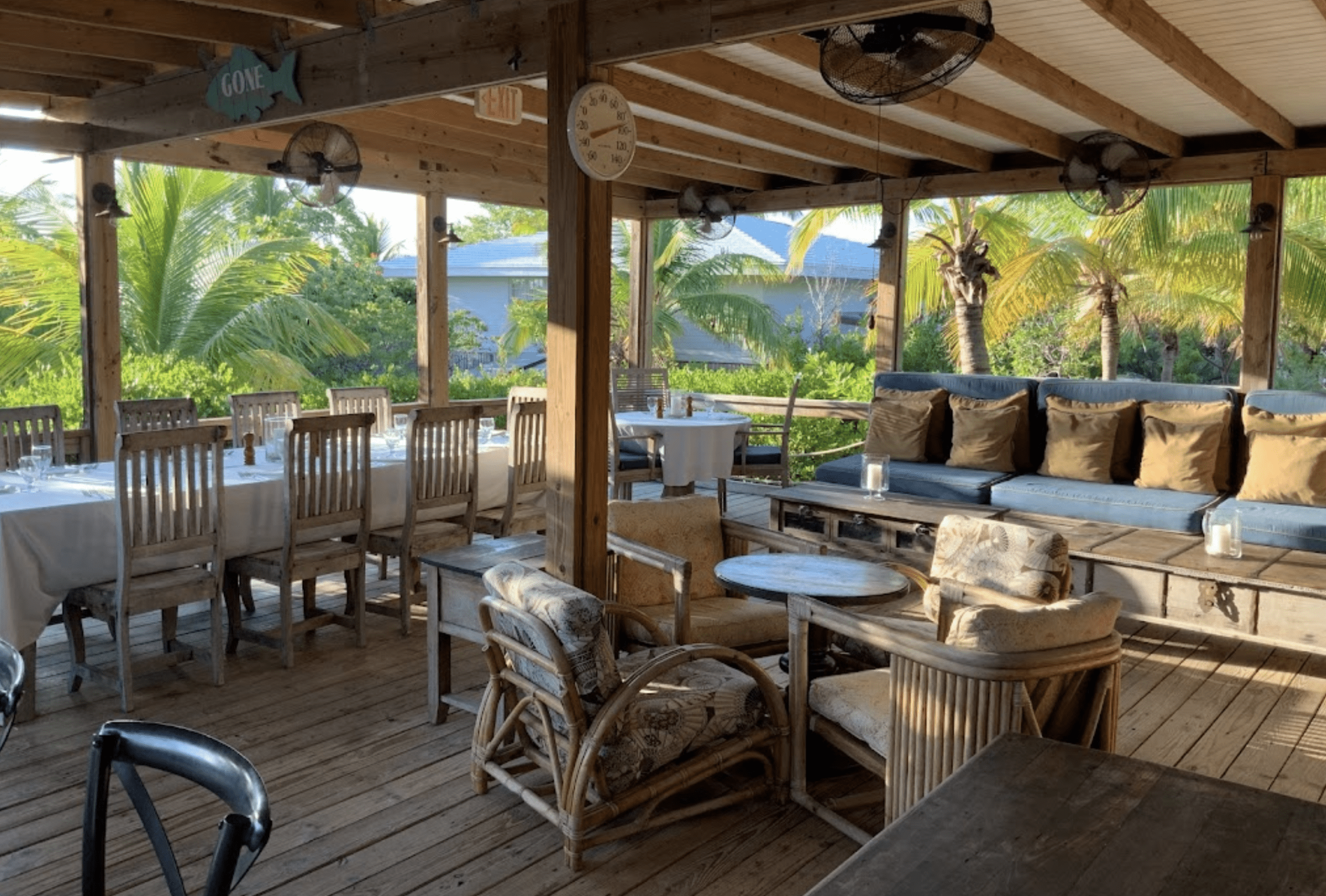 Rocky Dundas
Exuma Cays Land and Sea Park Adventure
"Rocky Dundas" is an ancient, hidden cave in the Exuma Cays Land and Sea Park. The cave is only accessible by swimming under a partially submerged ledge that will lead you to this enchanted, large open cavern. Ancient stalactites reach down from the ceiling and stalagmites rise up from the floor to greet them. The entire interior of this cave is covered in rich, colorful algae. There is little known history on this natural phenomenon, however being protected in this national park, it remains in it's pure, pristine state.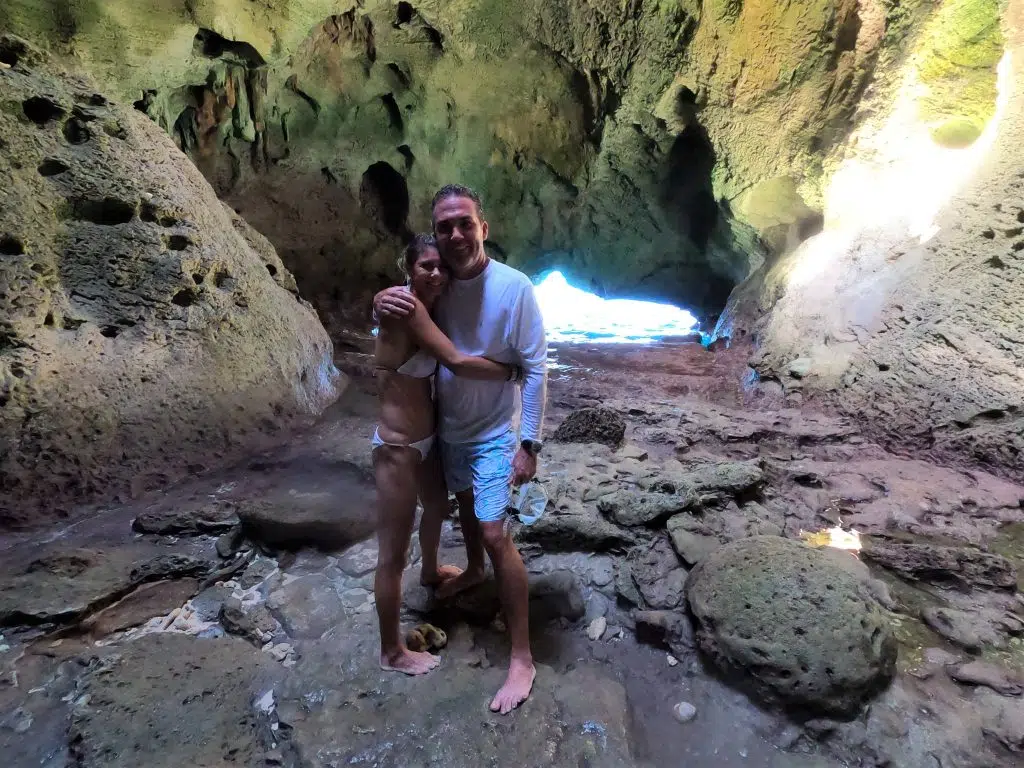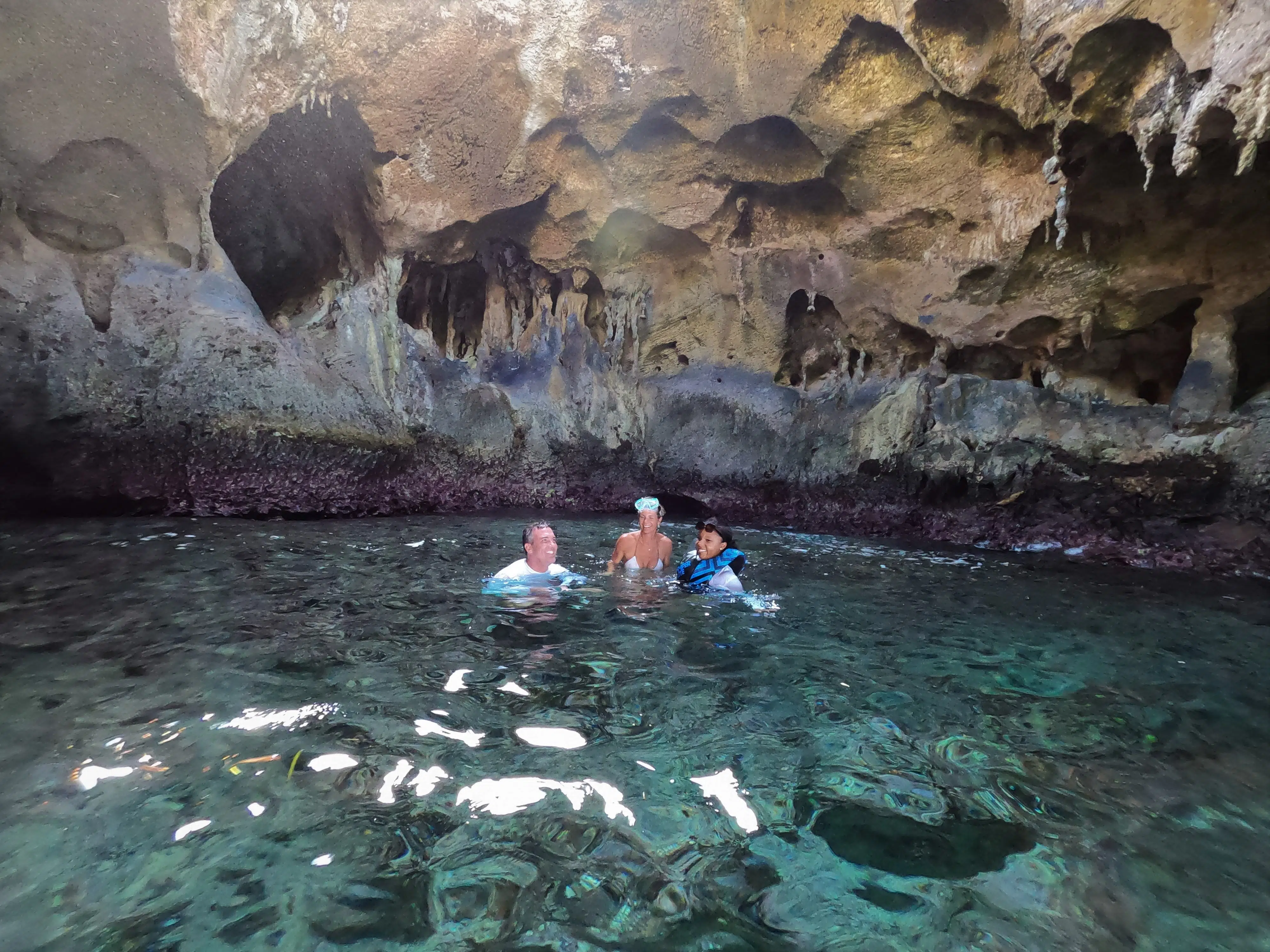 Rachel's Bubble Bath
Exuma Cays Land and Sea Park Adventures
A short walk to the lagoon on the north end of Compass Cay that borders Conch Cut, an "inlet" from Exuma Sound, and the southern boundary of the Exuma Cays Land and Sea Park. Here we will relax as the waves from the Exuma Sound break over the rocks and cause froth on the surface similar to a bubble bath.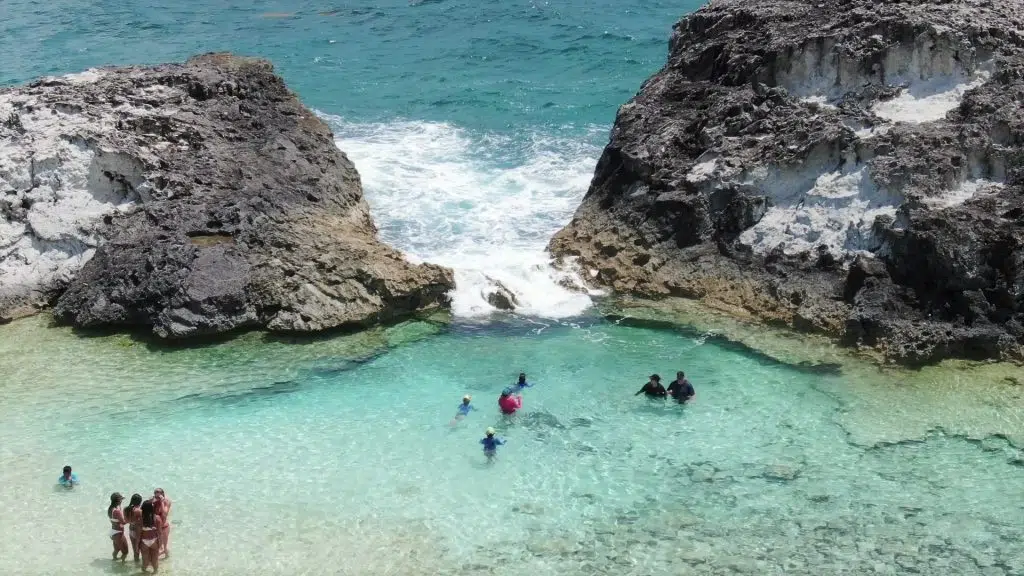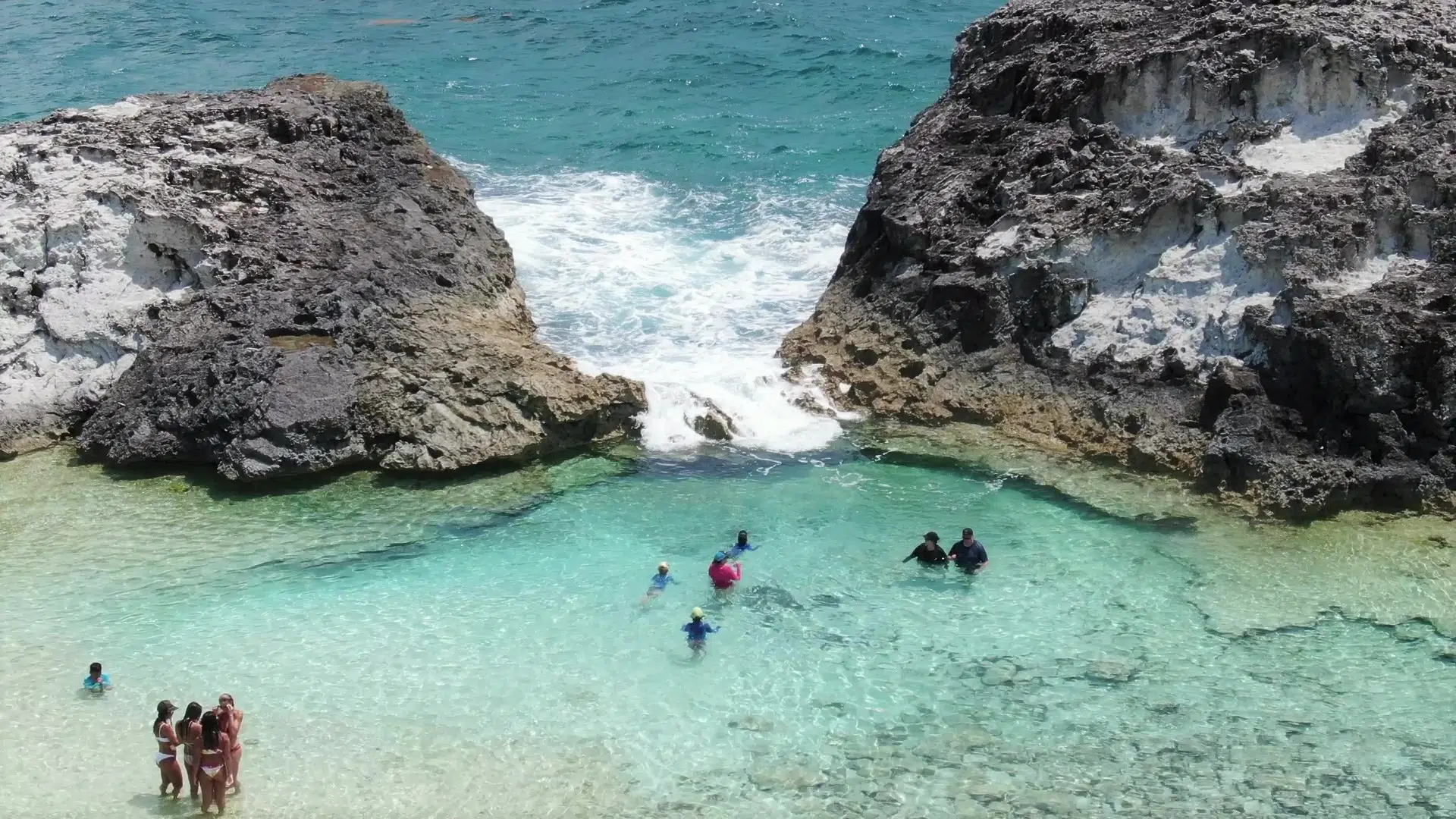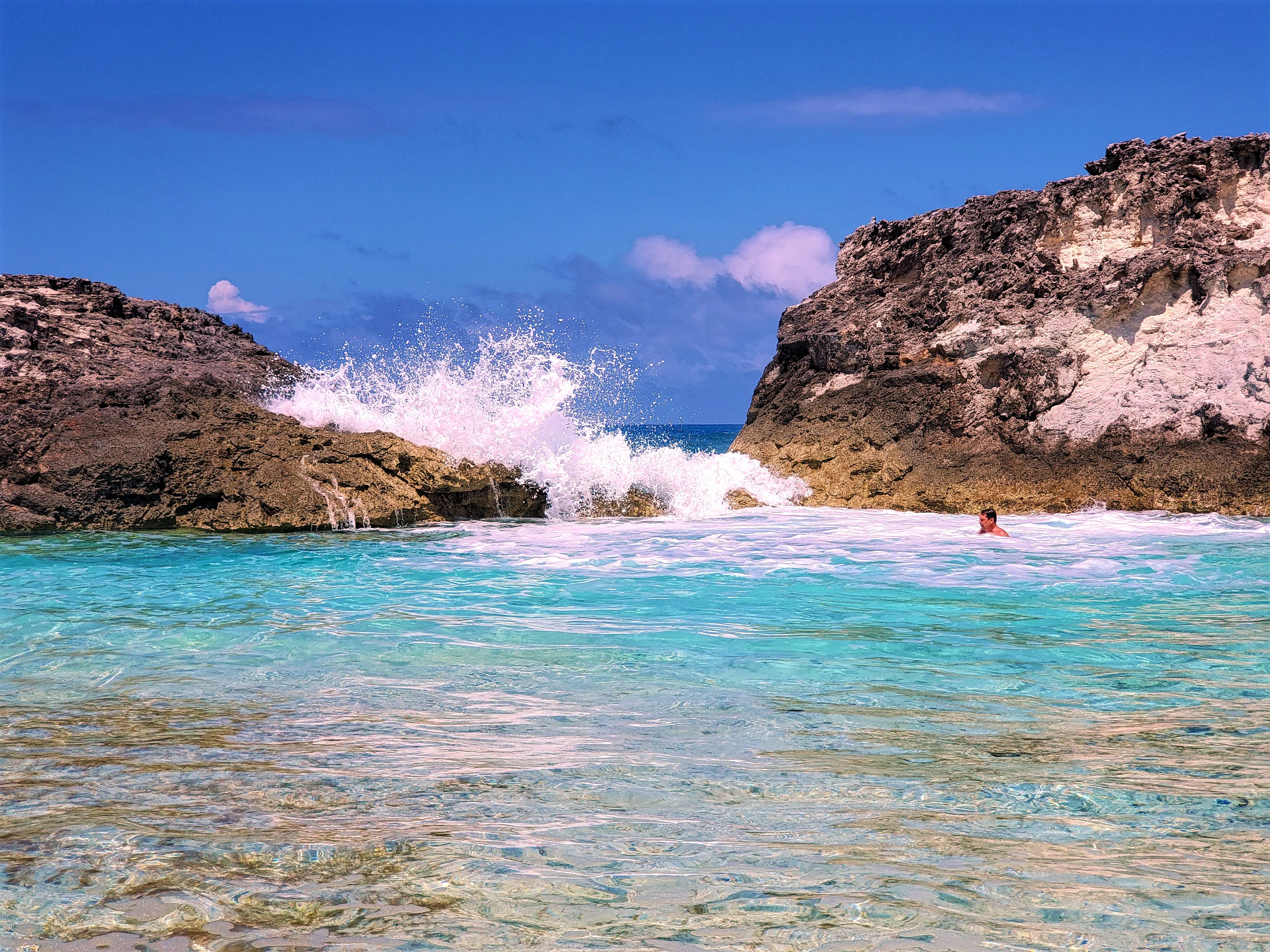 Pablo Escobar's Drug Plane & Norman's Cay
In 1978 Pablo's smuggling point man Carlos Lehder gradually began taking over Norman's Cay from the locals by purchasing small portions of the island. Shortly after, Lehder hustled them out for a full-scale commandeering of the property with the guise of using it as a strategic point for drug runners to rest and refuel on their way to the United States from Colombia.
The wreckage of one of Pablo and Carlos' plane, a Curtiss C-46 Commando, lies just off of the cay in shallow water. We will anchor the boat and snorkel the most famous plane crash in the Bahamas.
Afterwards we will head on over to the island itself and grab lunch at Mc Duffs Restaurant which is one of the best Restaurants in the Exuma Cays.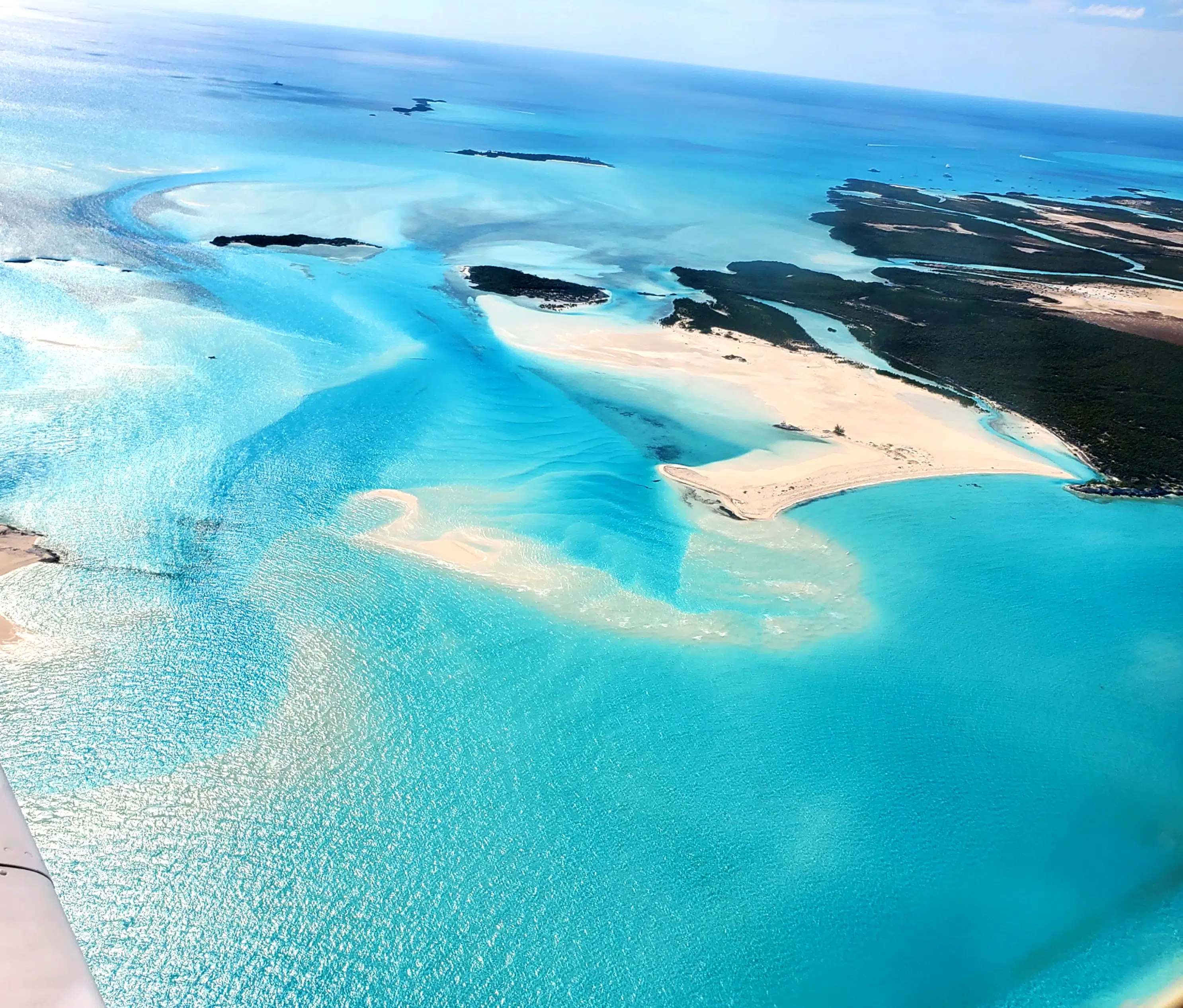 Shroud Cay Sandbar
Exuma Cays Land and Sea Park Adventures
Shroud Cay in the Land and Sea Park is one of the many attractions that the area offers. Shroud Cay is a must-see for anyone visiting the Exuma Cays; This small island is home to various plant and animal life and some of the most beautiful beaches in the Bahamas.
Visitors to Shroud Cay can enjoy swimming, snorkeling, and fishing in the clear waters. Hiking and bird watching are also popular activities on Shroud Cay. For those looking for a more relaxing experience, relax on one of the island's beaches and enjoy the stunning view.
Shroud Cay is a unique and beautiful place that should not be missed on any trip to the Bahamas.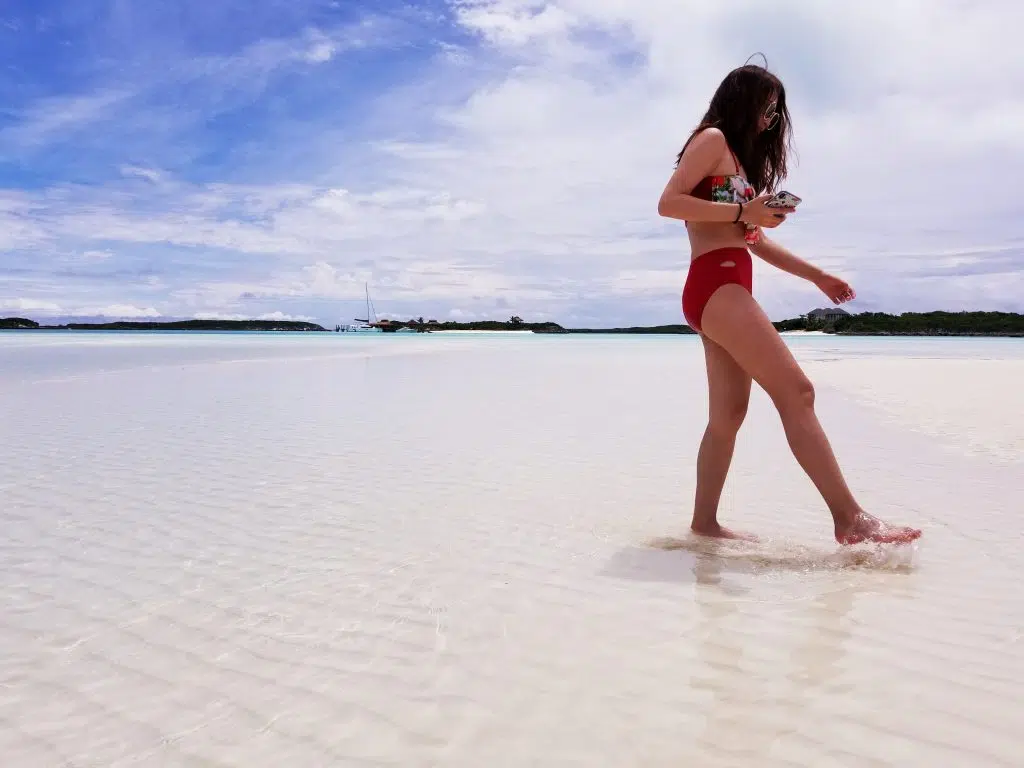 Who will our tour guides be for The Exuma Land and Sea Park Tour?
We have licensed local captains that have all grown up in the Exuma Cays and have many years of experience.
Can I book a private trip?
Yes, we offer private charter trips. Please see the chart below.
Where do we meet for pick up?
When you land on Staniel Cay, we will be right there to greet you.
Is lunch included?
No, lunch is not included on the Swimming Pigs Staniel Cay Day Tour. We offer snacks, water, and soda.
Will there be somewhere to leave our personal items while on the Pablo Escobar Tour tour?
Our boats have dry areas that we can stash your personal belongings during the tour.
How much tip do you think we should give?
Tips can vary depending on how many people are in your group.
Can I give a tour as a gift?
Of course, you can! Email us or give us a call, and we can help if you want it to be a surprise.
How much cash should we take and do they accept U.S. currency?
Yes, every island accepts U.S. currency and Bahamian Currency. Bring enough money for souvenirs and $10.00 for swimming with the Compass Cay Pet Sharks.
What is Provided For Pablo Escobar Tour?
Fluffy Towels
Water and soft drinks with lots of ice for those hot days
Snacks
Fish and Pig Snacks
Sunscreen if needed
Snorkeling gear that is professionally maintained
Beach chairs and floats
Phone Chargers and power supply
Digital photos for download
Local and experienced Boat Captain
You provide:
Camera or smart phone
Swim suit, hat and cover up for sun protection
Cash for lunch, tips and $10 per person to swim with the pet sharks
Who Should Not Go On The Pablo Escobar Tour
Not recommended for pregnant women
Not accessible for the physically challenged
Not recommended for people with back problems or who have had a recent back surgery
Not recommended for people with respiratory or heart problems
Not recommended for people with a recent arm/hand surgery
Not handicapped accessible
How far in advance do you need to book a Exuma Land and Sea Park tour?
The further out you book, the better chance of booking your preferred date. Staniel Cay Day Tours get booked fast make your booking in advance if you can't then email or call us and we will try to accommodate your schedule.
What Do We to Bring on the Pablo Escobar Tour
What should we wear for the Norman's Cay Tour?
Wear appropriate weather gear and always have a swimsuit on underneath!
Can I book Staniel Cay Group Tours by phone?
Do we have to tip our Tour Guides?
Tips are not required but are much appreciated; more than often, people provide tips to our captains.
Does the tour still go out if it rains?
We go out as long as the weather permits, depending on the water condition and how heavy the rainfall is we will try to make it out rain or shine. We do have rain protection if needed. It is rare to have a full day of rain.
Staniel Cay, Exuma Bahamas
Do you want to stay in touch and notify you when we announce new services? Join the Club. Sign up here!