Discover the Beauty of the Aquarium in the Exuma Land and Sea Park
Are you looking for a breathtaking underwater experience? Look no further than the Exuma Land and Sea Park and snorkel the Aquarium near Johnny Depp's Island. This natural wonder lies in one of the most picturesque parts of the Bahamas, offering a stunning variety of marine life, warm waters, and year-round sunshine. Whether you're a seasoned diver or just love to snorkel, you are sure to be mesmerized by the natural beauty that awaits you. Join us as we take a closer look at this incredible destination.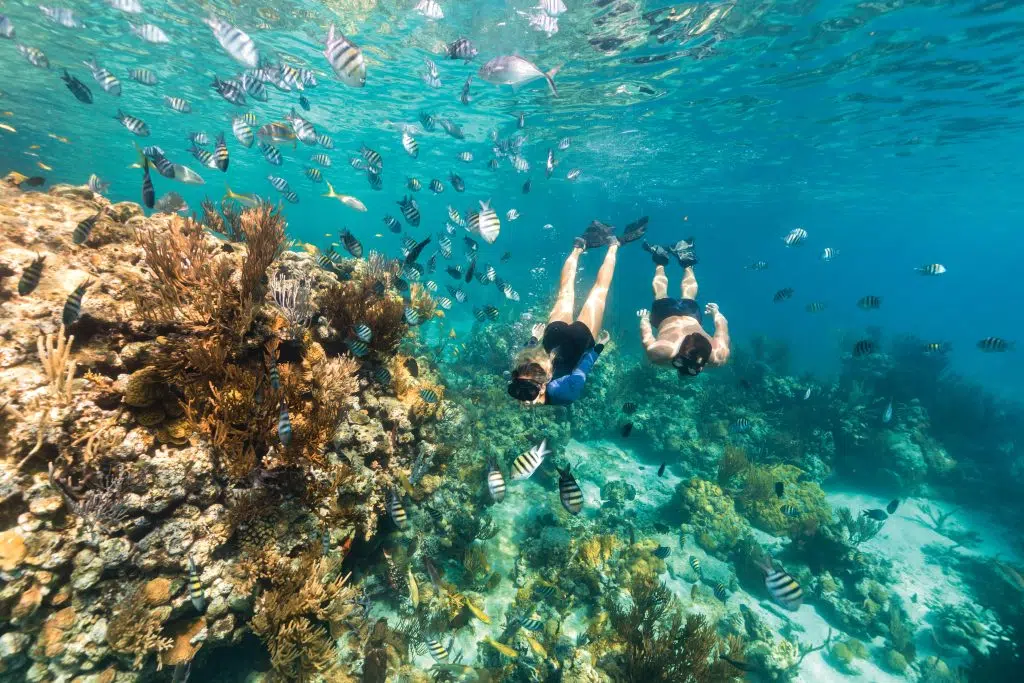 An Incredible Natural Habitat
The Aquarium in the Exuma Land and Sea Park is a natural field of coral reeds that lies in a shallow lagoon. The coral acts like a magnet for an astounding variety of marine life, which you'll be able to see from the moment you dip your head under the water. From small and colorful fish to larger predators like reef sharks, you'll be able to get up close and personal with some of the ocean's most wondrous creatures. The clarity of the water and the colorful coral create an atmosphere that is unforgettable.
Spectacular Snorkeling
For those who prefer to stay near the surface, the aquarium is a wonderland for snorkelers. You can follow the coral trail around the lagoon for a unique experience; swimming through tunnels, sunlit alleys, and vast fields of coral, all while floating above schools of colorful fish. However, if snorkeling is not your cup of tea, just looking over the side in this clear water will offer great views of the underwater life too.
Learn While You Explore
Apart from the splendor of its underwater scenery, the Aquarium in the Exuma Land and Sea Park has various educational opportunities for guests. You can join a guided snorkeling or diving excursion, led by a certified PADI instructor who can provide unique insights into the creatures you will come across. Visitors can also get free access to a small exhibit on marine biodiversity, which is housed in the park's headquarters. Once there, you'll have a chance to learn about the ecology of marine life and how we can conserve our oceans.
Other water activities
Whether you come with a bucket list or not, there are other activities you can do while visiting the Exuma Land and Sea Park. You can tour the park's intertidal zone or go fishing for sportfish like mahi-mahi and wahoo. Adults can rent sea kayaks or stand-up paddleboards to go solo, while kids can try their hand at crabbing. The park also lends snorkeling gear—good news for those traveling light.
How to Get There
The Aquarium is situated in the Exuma Land and Sea Park, which is 22 miles away from the Nassau International Airport. Most travelers get to the park by airplane or boat. If you come by plane, you can fly from Nassau to Staniel Cay airport and then hop on a guided boat tour to take you to the aquarium's location. Another way to get to the Aquarium is by going on a boat tour from Great Exuma Island. Whichever mode of transport you choose, you are bound to have a memorable journey.
If you are planning a trip to the Bahamas, the Aquarium in the Exuma Land and Sea Park near Johnny Depp's Island is a must-see destination. The underwater beauty, variety of marine life, and clear waters make it unlike any other place on the planet. Additionally, there are activities that cater to both adventure seekers and families with children. Go there, and you'll enrich yourself in a one-of-a-kind experience that you'll never forget.
Things To Do On Staniel Cay