Bahamas Scuba Diving Lessons Year Round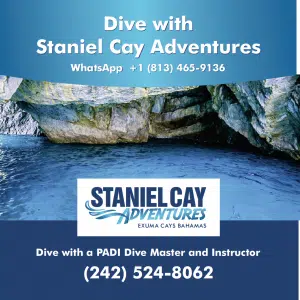 Staniel Cay Adventures offers scuba diving lessons year round! Staniel Cay Adventures dive services is now operating as a full time scuba shop and PADI scuba diving school on Staniel Cay . Our goal is to provide a scuba experience of unprecedented quality and service, along with arming diver's with knowledge and safety. Our scuba instructor  is the best trained diver in the industry, trained to offer  the most comfortable and secure diver in the Bahamas. We have an active diver community, with regularly organized activities and events that give you the opportunity to meet new dive buddies, socialize, and enjoy the camaraderie of fellow scuba enthusiasts as you explore the underwater world of the Bahamas.
With scuba diving lessons year round, you can learn to scuba dive and it has never been more convenient! Whether you're on the go, or just want to take it slow, now you can complete the academic portions of the most popular PADI diver courses online with PADI eLearning. At  Staniel Cay Adventures, your safety and enjoyment are our primary concern. Our friendly, knowledgeable scuba team always goes the extra mile to ensure that you have the equipment and training you need for an unforgettable underwater adventure!
Year Round Scuba Diving Lessons are the  Open Water Diver Course
Get your PADI scuba certification with Staniel Cay Adventures Dive services. If you've always wanted to learn how to scuba dive, discover new adventures or simply see the wondrous world beneath the waves, this is where it starts.The PADI Open Water Diver course is the world's most popular scuba course, and has introduced millions of people to the adventurous diving lifestyle.
Train with Staniel Cay Adventures Dive Services
Our year round scuba diving leassons are designed to provide you with the best combination of diving theory and diving skills to make you a safe, confident, and comfortable SCUBA diver. As a certified PADI Open Water Diver, the most widely recognized and respected rating in the world, you have the freedom to dive with a buddy independent of a professional.
What Do I Need to Start?
Virtually anyone who is in good health, reasonably fit, and comfortable in the water can earn a PADI Open Water Diver certification. If you are between 12 and 14 or have a child between these ages, there is a PADI Junior Open Water Diver program available.