Discover Scuba Diving in the Exuma Cays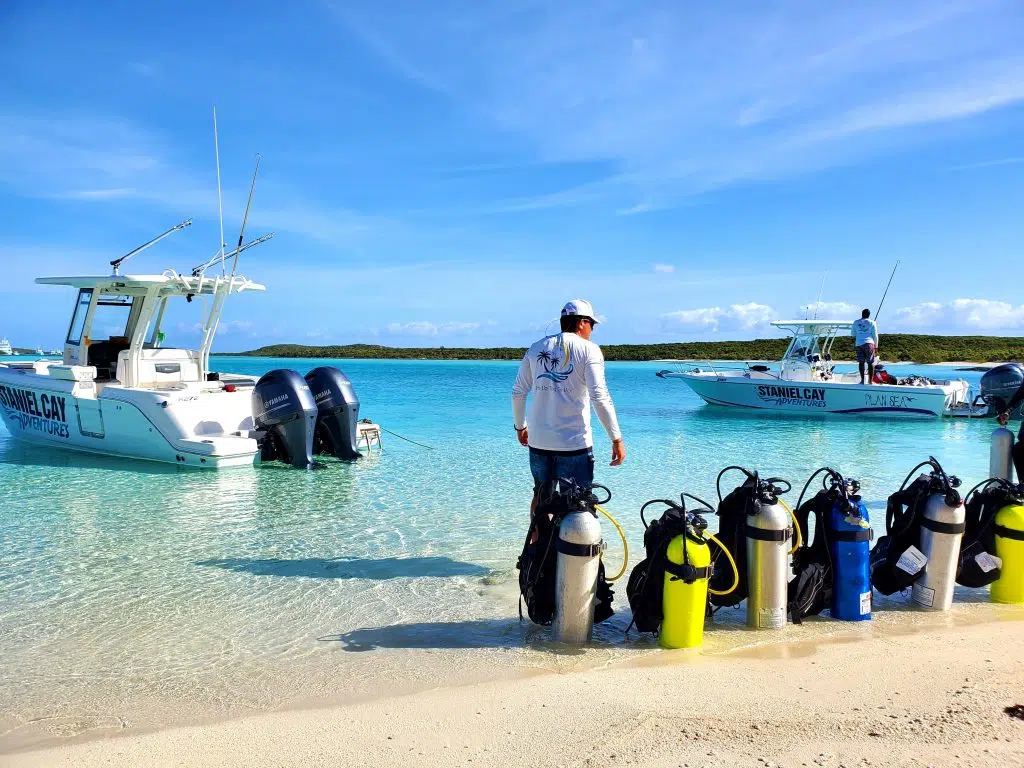 The Exuma Cays and Islands that make up the Exumas Cays are famous for more than the swimming pigs. Visitors enjoy yachting, sailing, fishing, and scuba diving on coral reefs, caves, and blue holes. There are numerous unnamed scuba dive spots in this chain of the Exuma Cays, and many of its offshore reefs are protected as part of Exuma National Land and Sea Park of the Bahamas National Trust.
Scuba Dive In The Exuma Cays

There is a high abundance of marine life to dive in the Exuma Cays, including all the sea turtle species you can see throughout the year, along with eagle rays, dolphins, reef sharks, and seahorses. November through to February heightens the chance of seeing humpback whales and hammerhead sharks. Visibility is excellent all year round.
The most famous dive area is the Exuma Land and Sea Park. It is one of the Bahamas National Parks and Protected Areas managed by the Bahamas National Trust. You will dive along walls, healthy untouched reefs, and sharks in this vast park. There are dives with varying depths to enjoy a scuba experience here that meets their skill level. 
 Within the Land and Sea Park is Jeep Reef, a famous dive. Jeep Reef has one of the healthiest and most colorful reefs in the Bahamas and is known for the reef's coral-encrusted jeep.
While in the Exuma Cays, you will have the chance to visit multiple dive sites, each with its own unique experience. A few dive sites consist of beautiful, thriving sea walls such as the Whale Tail Wall, where eagle rays are often spotted, and Pillar Wall begins at 40′ and drops down more than 333 feet, especially great for deep divers.
There is also a wreck you can dive around; the Austin Smith Wreck, lying down at 60 feet and is about 82 feet long, has created a spectacular dive spot. If you seek even more excitement, then you will find this at The Washing Machine, a place where the tide can make you tumble around, if you wish. If you would rather watch from the sidelines, it still has an impressive reef teeming with life. When it comes to reefs, the Amberjack Reef, another site, is a small patch of reef that is extraordinarily full of marine life, thousands of fish will surround you, and there is multiple reefs shark that calls this reef their home.