Thunderball Grotto
With Staniel Cay Adventures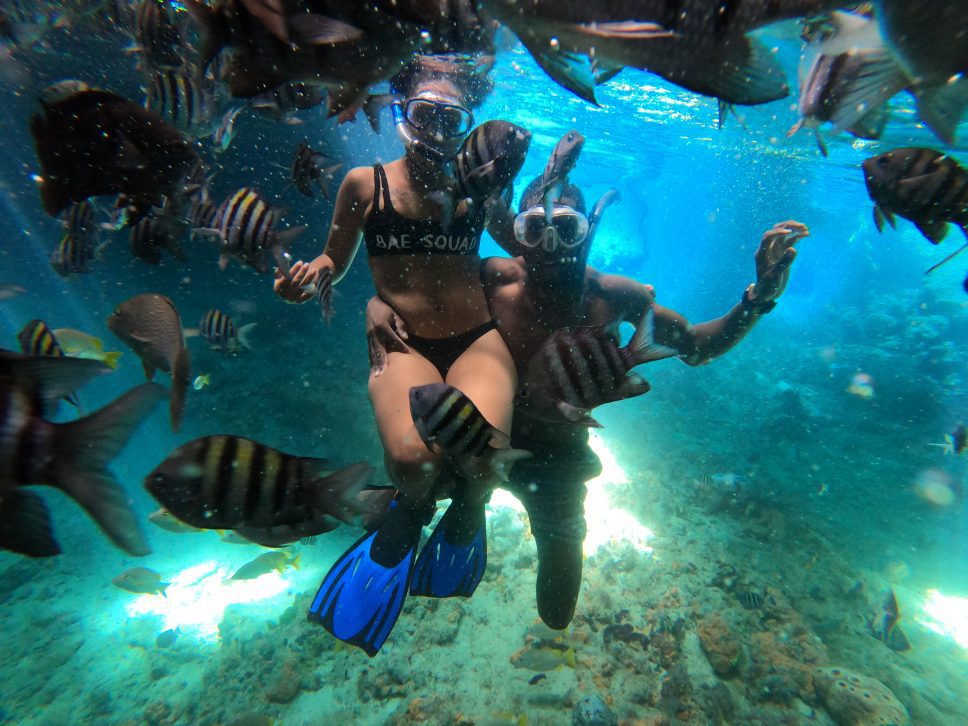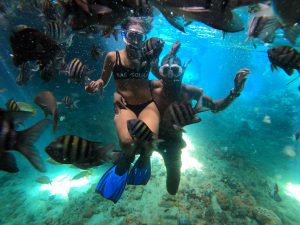 Thunderball Grotto is a incredible underwater cave  which has starred in not One, but two James Bond movies
Retrace 007's swim-finned steps with an unforgettable excursion to this famous turquoise grotto.
Cue the martinis, bombshells in bikinis, and MI6 secret weapons. Thunderball Grotto, an underwater cave that's been featured in two James Bond movies, also happens to be one of the most spectacular places to snorkel in the Bahamas.
A short boat ride from the northwest coast of Staniel Cay in the Exumas, Thunderball Grotto has played host to several silver screen gems, including Bond flicks Thunderball (1965) and Never Say Never Again (1983), Splash (yes, the one where Daryl Hannah plays a mermaid), and Into the Blue, starring Jessica Alba.
In Thunderball, Sean Connery's James Bond heads to the Bahamas to recover two nuclear warheads stolen by global terrorist organization SPECTRE.
Thunderball Grotto
Thunderball Grotto is located two minutes from Staniel Cay Exuma, offering an incredible underwater cave system is great for snorkeling and wading. You will experience a variety of friendly marine life along with brilliantly colored coral reefs and Sergeant Majors ,Yellow-tail snappers and Angel fish.  We provide professionally maintained snorkeling equipment from our certified PADI Dive Master.
| Miss Behav'n 18' Dauntless Boston Whaler | Bad Company 22' Dauntless Boston Whaler | Plan Sea 25' ProLine | Great Timing 27' Robalo |
| --- | --- | --- | --- |
| Private Tour $1000 Up to 2 people. After 2 people the cost is $100 per person up to 5 people. | Private Tour $1600 Up to 4 people. After 4 people the cost is $100 per person up to 8 people. | Private Tour $2000 Up to 6 people. After 6 people the cost is $100 per person up to 10 people. | Private Tour $2300 Up to 9 people. After 9 people the cost is $100 per person up to 12 people. |
| Group Tour $250 Per Person. $447 Per person From Nassau | Group Tour $250 Per Person. $447 Per person From Nassau | Private Dive Experience $2000 Up to 4 people. You select your dive site and time. Weather dependent. | Private Dive Experience $2300 Up to 6 people. You select your dive site and time. Weather dependent. |
| | | Group Dive $300 Per Person | Group Dive $300 Per Person |
| Private Fishing $1000 Up to 2 people | Private Fishing $1600 Up to 3 people | Private Fishing $2000 Up to 4 people | Private Fishing $2300 Up to 6 people |
| Private Brunch or Lunch In Paradise $1250 for Brunch or $1400 for Lunch Up to 2 people. After 2 people the cost is $175 per person for Brunch and $250 per person for Lunch up to 5 people. | Private Brunch or Lunch In Paradise $2000 for Brunch or $2300 for Lunch Up to 4 people. After 4 people the cost is $175 per person for Brunch and $250 per person for Lunch up to 6 people. | Private Brunch or Lunch In Paradise $2550 for Brunch or $3000 for Lunch Up to 6 people. After 6 people the cost is $175 per person for Brunch and $250 per person for lunch up to 8 people. | Private Brunch or Lunch In Paradise $3000 for Brunch or $3600 for lunch Up to 8 people. |