Exploring the Majestic Thunderball Grotto near Staniel Cay Through Snorkeling
The Bahamas is a majestic paradise that everyone should experience at least once in their lifetime, and the Thunderball Grotto is an adventure that should be at the top of your list. Nestled among the Exuma Cays, the stunning Thunderball Grotto is an underwater cave and passages that make up for a rich snorkeling experience. Here, you can swim through crystal clear waters, enjoy breathtaking reefs and marine life, and marvel at the beauty of the Bahamas which is widely lauded among the world's top tourist destinations.
A quick boat ride away from Staniel Cay, the Thunderball Grotto is situated below the surface and can be accessed via openings around the grotto. As you dive in, be sure to brace yourself for the beauty of neon-colored fish swimming effortlessly around coral formations. The Grotto is shallow, allowing even novice snorkelers to enjoy the experience without fear.
Once inside, you'll discover awe-inspiring rock formations that present excellent opportunities for amazing photography. The water in the Grotto is so clear that on a sunny day, you can see all the way to the bottom, where you're likely to catch a glimpse of the tiny fish living at the bottom of this oasis.
The Thunderball Grotto is an excellent spot to take a peaceful retreat from the noise of the world and enjoy a somewhat private moment at the heart of nature. The vast, open atmosphere coupled with the occasional chirps of birds and the sounds of water gushing, all working together create the perfect setting for relaxation.
If you are a James Bond fan, you'll be pleased to know that the famous Thunderball scene was shot here. At this location, you can step into the movie, and be a part of the action that played out in Thunderball. Get your snorkeling gear on and swim through the underwater passage to have your shot at what James Bond did in Thunderball!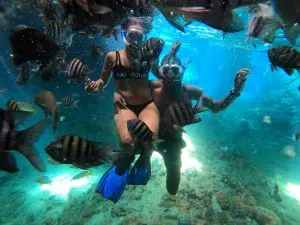 Exploring the Thunderball Grotto is best with your tour guide due to the currents. If you're visiting the Bahamas on holiday, your accommodation provider can help to arrange a seasoned guide that'll show you around the Thunderball Grotto. Tour guides are knowledgeable about the history and geology of the Grotto, and they will share insightful information about the experience.The Thunderball Grotto snorkeling adventure is an experience of a lifetime that should be included on any traveler's bucket list while visiting the Bahamas. While exploring, you are bound to discover a plethora of marine life and coral that make the experience worth it. The vast openness and tranquility that crisps through this stunning place are unmatched, creating the perfect ambiance for relaxation. In summary, a visit to the Thunderball Grotto is a guarantee that you'll fall in love with the Bahamas even more.