Description
The Original Swimming Pigs Tour Adventure on Staniel Cay
In the middle of paradise, with billionaires and celebrities for neighbors, is an island populated only by swimming pigs. For decades, this archipelago of 365 islands would remain largely unknown to the world. It would not be a ruthless pirate, pioneering loyalists, a notorious drug kingpin, or the infamous Fyre Festival that would unveil Exuma to the world, but rather the most unlikely of creatures. Appearing in magazines, videos, newspapers, commercials, TV shows, and countless selfies, the Swimming Pigs of Staniel Cay Exuma, in the Bahamas, have become a bucket-list sensation and have been named one of the marvels of the universe.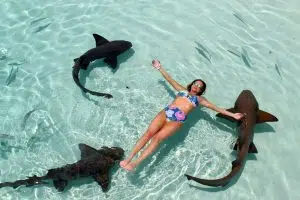 Meet the wildlife of Euxma by boat
Explore over 10 miles of diverse land and sea ecosystems
Feed the turtles, visit the original swimming pigs, swim with the sharks and feed the iguanas.
Journey to see the sandbars or snorkel the shallow reefs
Looking for more? We also offer Private Tours , Fishing Trips and Scuba Diving Trips