Staniel Cay is a small island in the Exuma Cays, Bahamas. It is known for its beautiful beaches, clear waters, and relaxed atmosphere. The island is home to a small community of locals and tourists and a popular destination for sailing, fishing, and snorkeling.

Getting to Staniel Cay

Staniel Cay is accessible by flight from Fort Lauderdale on Makers Air and From Nassau on Titan Air or Flamingo Air.

Where to Stay in Staniel Cay

There are a few hotels and resorts on Staniel Cay and several private villas and vacation rentals. Some of the most popular places to stay include:
Staniel Cay Yacht Club: This resort is on the island and offers stunning views of the surrounding cays. It has a variety of amenities, including a restaurant, bar, swimming pool, and marina.
Compass Point: This resort is located on a secluded beach on a Cay about 20 minutes by boat and offers a very relaxed bring all your provisions atmosphere. Famous for their tame nurse sharks.
Embrace Resort, Staniel Cay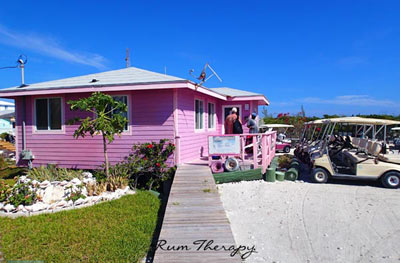 Imagine a small, intimate resort with seven well-appointed, themed villas, a spa, pool, cabana, and upscale restaurant, all on a beautiful, quaint little island in an exquisite chain of small islands in the Bahamas called the Exuma Cays. Photo by Rum Therapy
Staniel Cay Marina: This marina has a variety of vacation rentals, including cottages, villas, and boats. It is an excellent option for those who want to be close to the action.
Things to Do in Staniel Cay
There are many things to do in Staniel Cay, including:
Swimming with pigs: This is one of the most popular activities in Staniel Cay. The pigs live on a small island called Big Major Cay, and they are known for being friendly and playful.