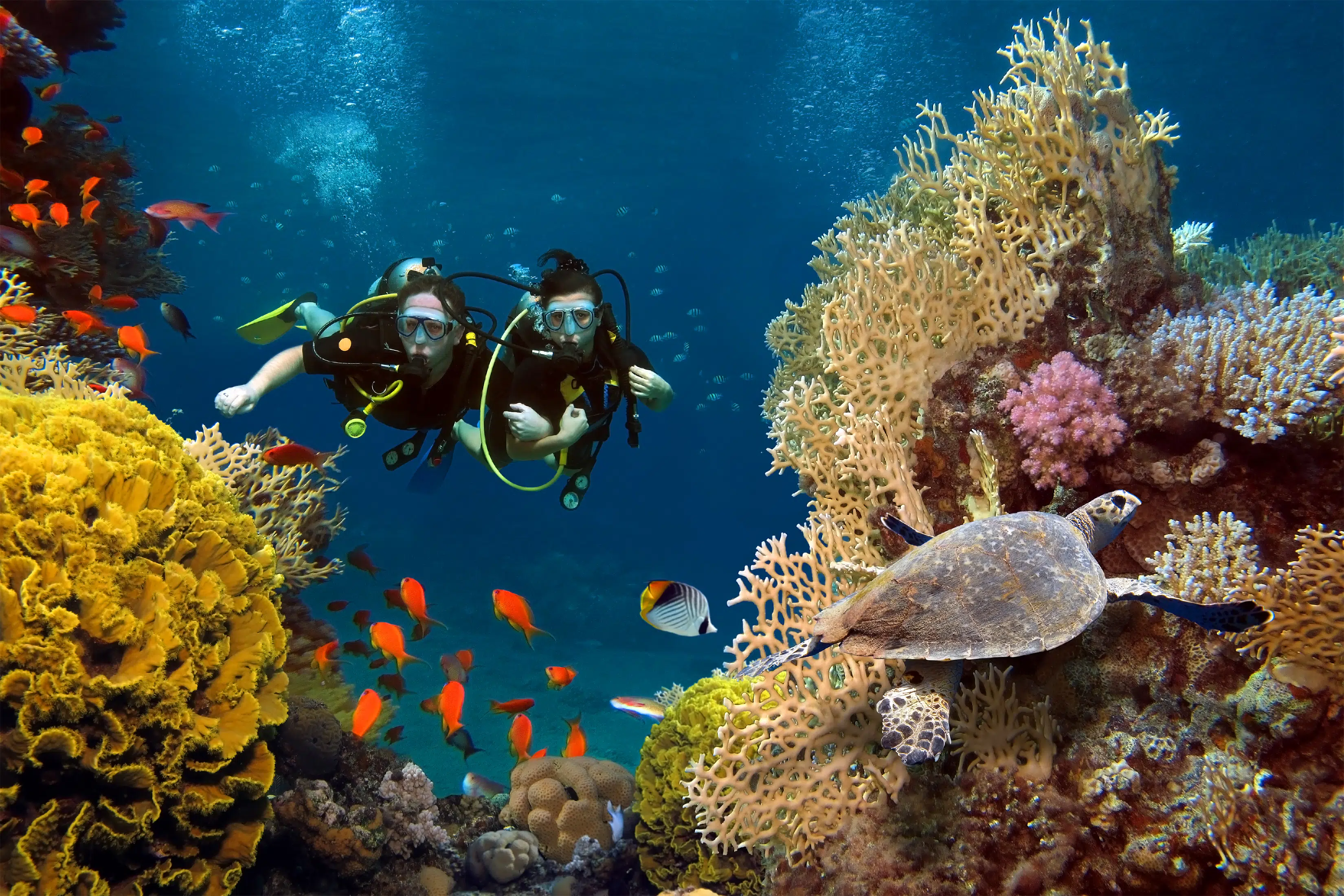 Explore the beautiful waters while scuba diving around Exuma, Bahamas. Staniel Cay Adventures is located on Staniel Cay, approximately 75 miles south of Nassau and 250 miles southeast of Florida. The island is less than 2 square miles and is home to about 80 full-time residents.
As a boutique Exuma scuba diving experience, we cater to a small group of six people or less and focus on personal attention, comfort, safety, and environmental responsibility. We have a luxury boat and keep our service very personal.
Tailor-Made Service: Staniel Cay Adventures considers the needs of our guests in terms of dive sites, desired marine creatures, and food menus. This flexibility is a cornerstone of the boutique dive experience. This ensures that every guest feels pampered and cared for throughout the journey.
Attention to Detail: From post-dive snacks to fluffy towels, no detail goes unnoticed, leaving divers nothing to worry about.
A Low Ratio of Dive Master to Divers: On these Exuma dives, our divemasters are only responsible for 2 to 6 people, ensuring safe and quality scuba diving.
A Full-Service Dive Routine: Our Diver Master sets up your equipment and disassemble equipment. In between, the crew takes all responsibility for washing and changing tanks. There's no need to do even the slightest bit of work!
A PADI Certified Divemaster and Instructor guide every dive trip to enhance your experience. Our experienced captains, combined with our great locations, offer you some of the best scuba diving in the Bahamas at our doorstep; we can provide you with personal first-class scuba courses and dive excursions to an underwater world; that will take your breath away!
Are you looking for Snorkeling and guided tours? We also offer that!
If you are already a certified scuba diver, consider joining us for a few fun dives. We have options available for morning, afternoon, and full-day trips, and if you'd like to set up a private charter, we can accompany you as well! We make our dive location decisions daily based on weather, tides, and currents.
Scuba Diving Equipment Rental
Group or Private Dive: includes Scuba Pro BCD, Regulator, Mask, Snorkel, Fins, Weight Belt, Weights, Tanks
Exuma Equipment Rental:
BCD $20
Regulator $20
Dive Computer $20
Mask, Fins and Snorkel $15
Tank $30
Tank Fills $20 per tank
All Prices exclude 12% VAT and Credit Card Processing Fee of 5%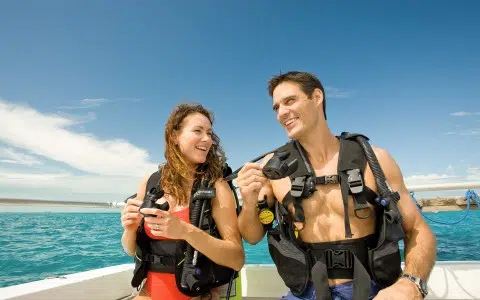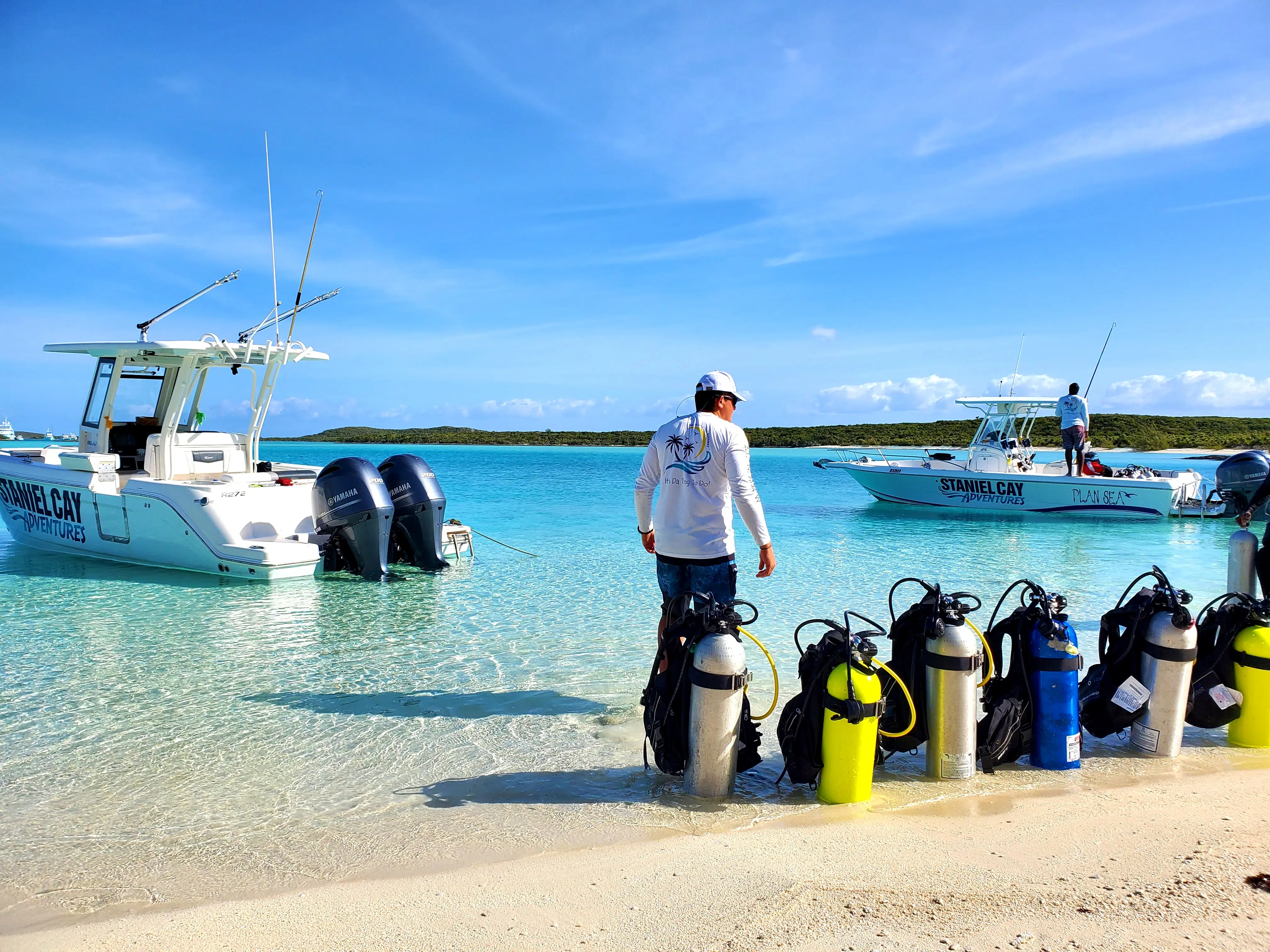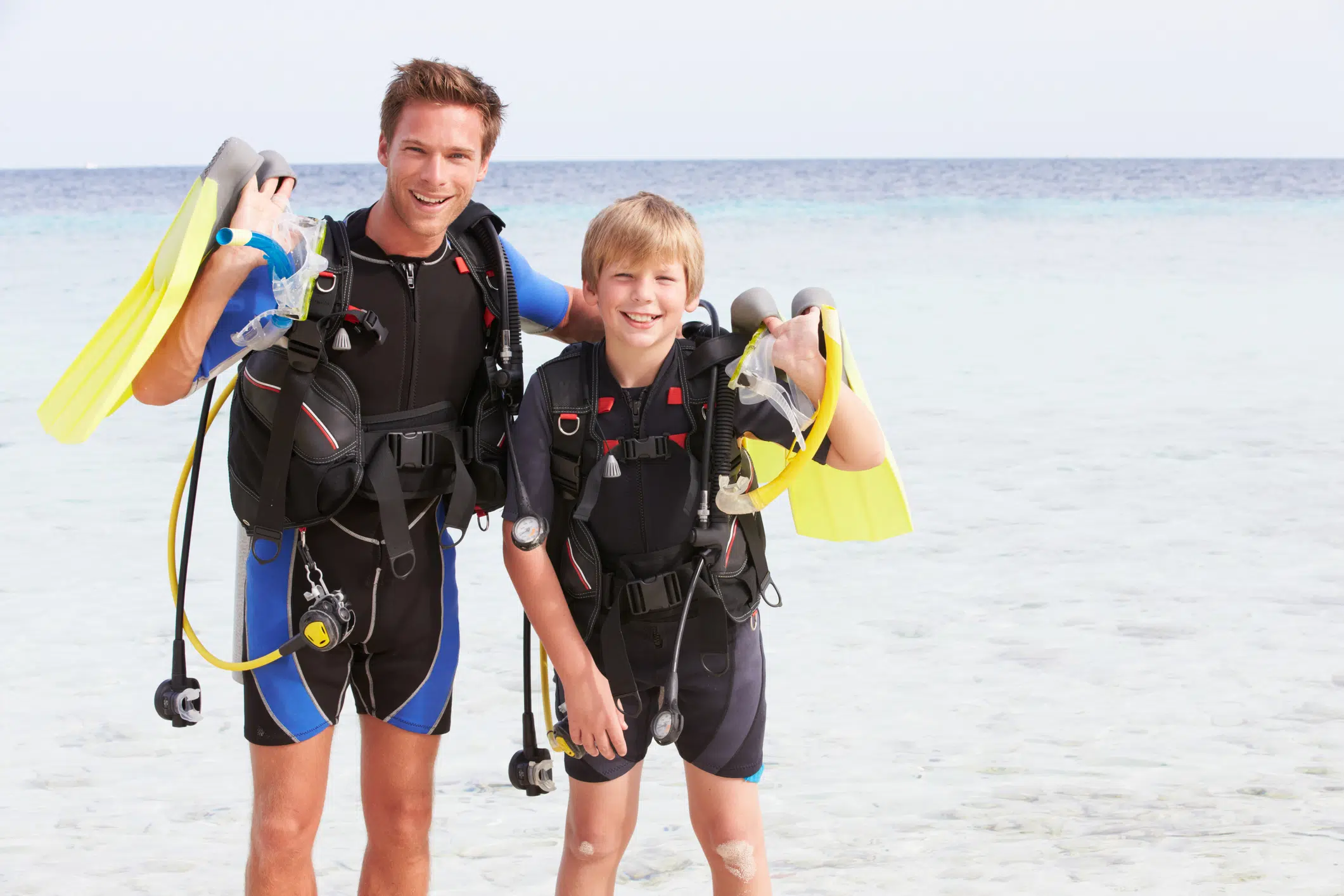 Discover Scuba Diving in Exuma
Do you want to find out what it's like to scuba but not quite ready for a certification course or you have a busy schedule and just don't have the time to do a full course? Discover Scuba Diving will let you try scuba diving to see if you like it.
While not a full scuba certification, during the DSD experience you'll learn how to use scuba equipment in shallow water (down to 12 meters /40 ft). Get a quick and easy introduction to what it takes to explore the underwater world under the direct supervision of a PADI Professional.
Get a feel of how easy it is to move around underwater while wearing scuba equipment and learn basic skills & safety rules that will carry over to your full scuba certification course when you take the next step. And the most exciting part of all, experience how it feels to breathe underwater and be comfortable.
PADI Discover Scuba Diving Information
PADI Discover Scuba Diving: $147
Optional: Open water dive (+$150), 2 Open water Dives (+$250)
Course time: 1 day (1 hour)
Content: 1 academic module, 1 confined open water session, Optional: Open Water Dive
Maximum depth allowed: 12 meters / 40 feet, under a PADI Professional's supervision
Prerequisites: +10 years old, no previous experience necessary.
NOTE: Maximum is three non-certified divers to go on an open water dive per dive instructor. When grouping non-certified and certified divers, we carry 4 divers max per dive instructor.
Course Package Includes: All Materials and Equipment
For any questions or concerns you may have about Scuba Diving on Staniel Cay please email us at: dive@stanielcayadventures.com
Cancellation Policy: Cancellations made under 48 hours of departure time incur forfeiture of deposit (50%) and Cancellations on the day of the dive incur forfeiture of (100%) of the cost. With the only exception being extreme weather conditions.
There is a high abundance of marine life in the Exuma Cays, including all the sea turtle species you can see throughout the year, along with southern stingrays, spotted eagle rays, barracuda, grouper, nurse sharks and reef sharks. November through to February heightens the chance of seeing hammerhead sharks. Visibility is excellent all year round.
The most famous dive area is the Exuma Land and Sea Park. It is one of the Bahamas National Parks and Protected Areas managed by the Bahamas National Trust. You will dive along walls, healthy untouched reefs, and sharks in this vast park. There are dives with varying depths to enjoy a scuba experience here that meets their skill level.
Within the Land and Sea Park is Jeep Reef, a famous dive. Jeep Reef has one of the healthiest and most colorful reefs in the Bahamas and is known for the reef's coral-encrusted jeep.
While in the Exuma Cays, you will have the chance to visit multiple dive sites, each with its own unique experience. A few dive sites consist of beautiful, thriving sea walls such as the Black Tip Wall, where reed sharks are often spotted, and Pillar Wall begins at 80′ and drops down more than 333 feet, especially great for deep divers.
There is also a wreck you can dive around; the Austin Smith Wreck, lying down at 65 feet and is about 82 feet long, has created a spectacular dive spot. When it comes to reefs, the Amberjack Reef and Danger Reef, another site, is a small patch of reef that is extraordinarily full of marine life, hundreds of fish will surround you, and there is multiple reefs shark that calls this reef their home.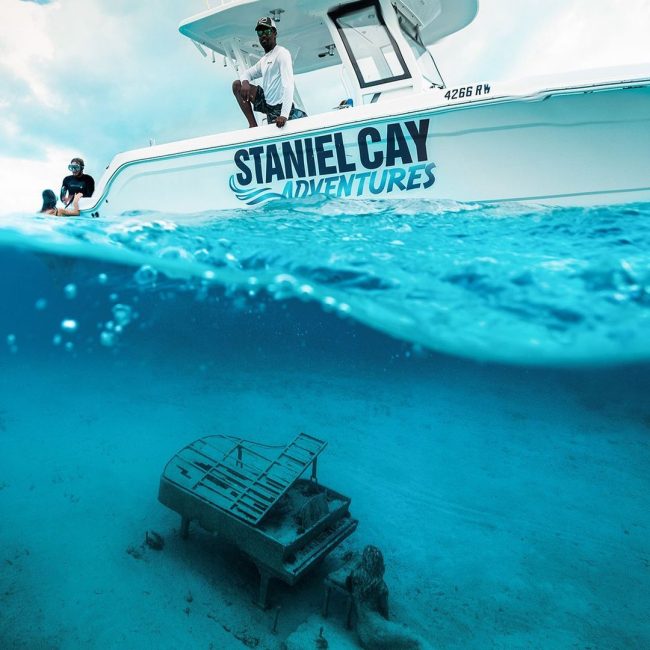 Snorkeling in the Exuma Cay is amazing with Staniel Cay Adventures is fun, easy, and safe. Our certified PADI Dive Master will take you to incredible spots, be in the water with you and provide you with proper techniques so you will get the most out of your experience.
Skin diving is snorkeling while making breath-hold dives to observe aquatic life, up close and personal. It's a great way to explore the underwater world when you're not able to scuba dive or if scuba diving just isn't your thing. The PADI Skin Diver course teaches you how to enjoy watching life below the surface and comfortably venture underwater for short visits.
Proper snorkeling techniques are the first step to discovering scuba diving so if you are interested in advancing your underwater experience you will be in great hands.
You will be absolutely amazed at the underwater world that lives right off our shores. Prices for the snorkeling trip include all snorkeling equipment, including a snorkel vest and instructions on how to snorkel.
PADI Discover Scuba Diving
Group Dive
Plan Sea
25' ProLine
Great Timing
27' Robalo
Blue Hefner
28' Hydra-sports
Your Vessel
Private Divemaster
Course: $197 Per Person
Add an open water dive for $150
Add a second open water dive for an additional $100

All prices exclude 10% VAT and a credit card processing fee of 5%

Group Dive $350 Per Person




All prices exclude 10% VAT and a credit card processing fee of 5%
Private Dive Experience $2100 Up to 4 people. You select your dive site and time. Weather dependent. Up to 4 people


All prices exclude 10% VAT and a credit card processing fee of 5%
Private Dive Experience $2400 Up to 6 people. You select your dive site and time. Weather dependent.


All prices exclude 10% VAT and a credit card processing fee of 5%
Private Dive Experience $2400
Up to 6 people. You select your dive site and time. Weather dependent.

All prices exclude 10% VAT and a credit card processing fee of 5%
$700 with no extra gear or $1,000 with gear for up to 4 divers. $100 for additional diver.


All prices exclude 10% VAT and a credit card processing fee of 5%